Dr Hayaatun Sillem honorary degree
Honorary Degree for leading engineer
Published on: 19 July 2022
Dr Hayaatun Sillem CBE, CEO of the Royal Academy of Engineering, has received an Honorary Doctorate.
As the first female CEO of the Academy, Dr Sillem is pioneering a sustainable, global society and inclusive economy. Named one of the 'Inspiring 50 Women in Tech', she chairs the UK government's Business Innovation Forum, the St. Andrews Prize for the Environment, and co-chaired with Sir Lewis Hamilton on his Commission to improve Black representation in UK motorsport.
She is also a trustee of EngineeringUK and the Foundation for Science & Technology, a member of the UK government's Levelling Up Advisory Council, a non-executive director of UNBOXED: Creativity in the UK and Laing O'Rourke, and an advisor to the Lloyd's Register Foundation.
Dr Sillem said:
"I strongly believe that the combination of diverse teams and inclusive leadership is uniquely powerful, and we need many more women and others from under-represented groups to be able to see a future for themselves as innovators, entrepreneurs and engineers. These are amazing, rewarding, future-shaping careers through which you can make a difference and deliver products and services that benefit all parts of society."
A visible role model
Professor Stephanie Glendinning, Pro-Vice-Chancellor, Faculty of Science, Agriculture and Engineering, said:
"I am delighted that Dr Sillem has been awarded an honorary degree. As an important and highly visible role model and advocate for promoting more women in STEM related disciplines and sectors, her values align closely with those of Newcastle University. It is therefore a privilege to award her an honorary degree, as a mark of our respect and appreciation for her invaluable work, and in doing so, we hope to encourage and inspire even more women to study, work and make a difference within science, technology, engineering and mathematics."
Professor Paul Watson, Director for the National Innovation Centre for Data, added:
"I was privileged to be a member of the Royal Academy of Engineering's Equality, Diversity and Inclusion committee alongside Dr Sillem. She has transformed the entire organisation so that EDI is not just a "tick in the box" side-lined to our committee but is instead placed at the heart of all the work of the Academy. "
Dr Sillem is co-founder of the Enterprise Hub, which supports and funds UK tech and engineering entrepreneurs. Recognised as a major champion for diversity in STEM, she sits on multiple boards and councils and is an adviser to AccelerateHER, a network of female founders and partners with a mission to help women accelerate growth and scale companies.
Claire Adamson, START UP Manager in the Careers Service, said:
"Dr Sillem is an inspiration to us at START UP. We want to champion more women to see themselves at the forefront of innovative, impactful businesses and our upcoming START UP Founderships pre-accelerator is an opportunity to do this. Founderships helps aspiring entrepreneurs to establish themselves as resilient leaders of growth-focused companies making economic and societal impact. It's an incredibly high-value opportunity for our new and recent graduates. We'd like to see applications from more of our female colleagues than ever before and encourage all interested students and graduates interested to come forward."
The ceremony can be viewed online.
Today's ceremony follows on from the start of the Summer 2020 congregation, which started with the inauguration of Newcastle University's Chancellor Imtiaz Dharker. Imtiaz was joined at the ceremony, in the University's historic King's Hall, by leading figures chosen to be awarded honorary degrees alongside her at the ceremony:
Former poet laureate Dame Carol Ann Duffy (Doctor of Literature)
Physicist and broadcaster Professor Jim Al-Khalili (Doctor of Science)
Rachel Dwyer, Professor Emerita of Indian Cultures and Cinema (Doctor of Literature)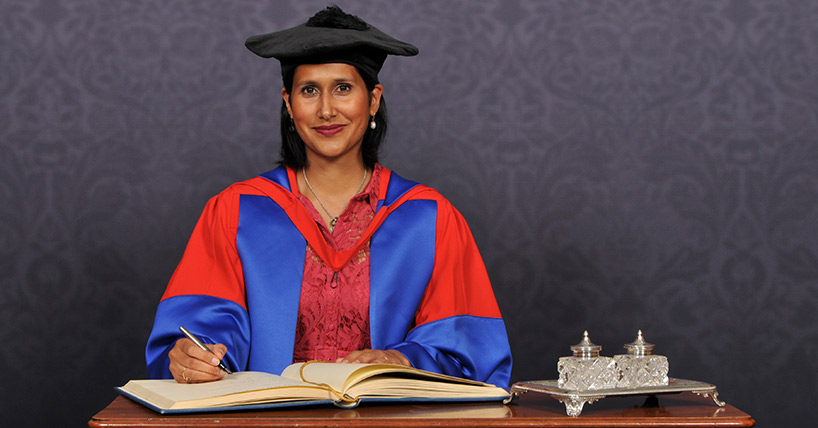 ---
Latest News