Shaka Hislop and Ann Cleeves Honorary Degrees
Leading lights in sport and literature given honorary degrees
Published on: 13 July 2022
Two leading figures in the North East have been recognised with honorary degrees at Newcastle University.
Former footballer, anti-racist educator and broadcaster, Shaka Hislop, was honoured and so too was international bestselling detective novelist Ann Cleeves.
They attended ceremonies as part of Newcastle University's summer graduations, in the historic King's Hall, where they received their Honorary Doctorates.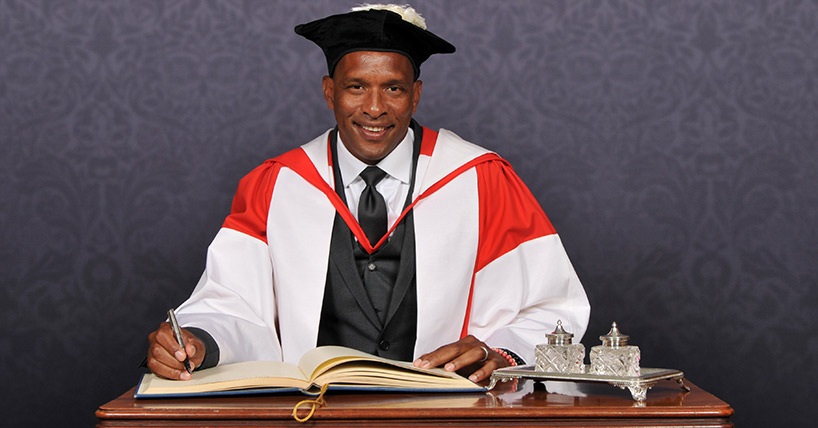 Honorary Doctor of Civil Law degree
Neil 'Shaka' Hislop has been recognised with an Honorary Doctor of Civil Law degree.
He has made a significant contribution to anti-racist education since the mid-1990s, when he played for Newcastle United. He became founding patron of the anti-racism education charity 'Show Racism the Red Card' in November 1995 and was the first player to visit schools with the charity to answer young people's questions about racism.
Shaka said: "Newcastle, as a city, has given me so much that I am proud of. It was Newcastle United FC that gave me the opportunity to live my wildest boyhood dream of playing football at the highest level. My eldest daughter was born at the RVI.
"I often say that Show Racism the Red Card couldn't have been founded anywhere else. Receiving an Honorary Doctorate from Newcastle University, especially in Civil Law, in recognizing the work that Show Racism the Red Card has gone on to do, the difference the campaign has made over the years, is an honour I never expected.
"Dr Martin Luther King was also bestowed with an Honorary Doctorate from Newcastle University in 1967, I am humbled to follow in his footsteps. I am proud to be forever associated with the legacy that Newcastle University represents in the fight for social justice and the march to equality."
Honorary Doctor of Literature
Ann Cleeves has been recognised with an Honorary Doctor of Letters degree.
As well as being a world-renowned novelist, she is also a key library and literacy advocate.
Known around the globe for her detective novels, particularly since the televisation of her crime fiction series, Vera and Shetland, Ann was awarded a lifetime achievement award by the Crime Writers' Association in 2017. A long-standing champion of literacy agendas and widening participation, she has been involved in literacy work in prisons as part of the Inside Books project.
She said: "I'm absolutely delighted to be awarded an honorary degree from Newcastle University.
"Newcastle is my adopted city, and this feels as if I've been made a real member of the family."
Shaka Hislop's ceremony can be viewed at: https://www.youtube.com/watch?v=vMTNAzQEMq0
Ann Cleeves' ceremony can be viewed at: https://www.youtube.com/watch?v=Kn9MVswW7Qc
University Chancellor inaugurated and leading figures honoured
Today's ceremony follows on from the start of the Summer 2020 congregation, which started with the inauguration of Newcastle University's Chancellor Imtiaz Dharker. Imtiaz was joined at the ceremony, in the University's historic King's Hall, by leading figures chosen to be awarded honorary degrees alongside her at the ceremony:
Former poet laureate Dame Carol Ann Duffy (Doctor of Literature)
Physicist and broadcaster Professor Jim Al-Khalili (Doctor of Science)
Rachel Dwyer, Professor Emerita of Indian Cultures and Cinema (Doctor of Literature)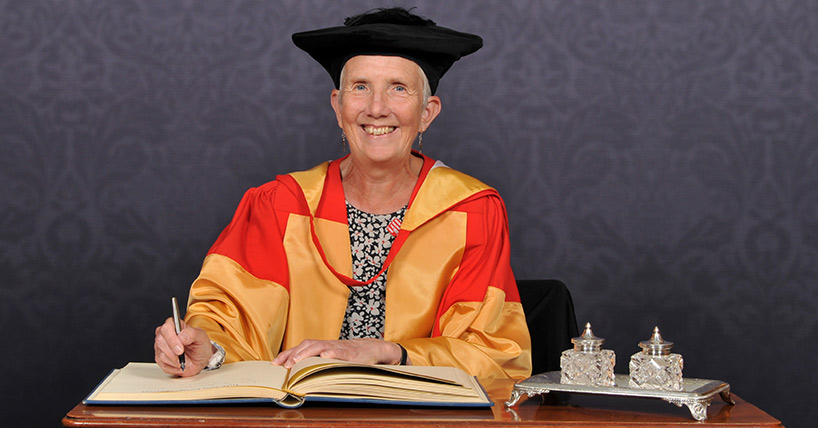 ---
Latest News