Best Neighbour on Campus Awards celebrate selfless students
Published on: 19 December 2019
Newcastle University students have been recognised for going the extra mile to support their neighbours and the communities they live in.
A group of six students scooped the Best Neighbour On Campus Award (BNOC) for collecting food to donate to the local foodbank on Halloween, while a second-year Business School student was praised for supporting her neighbours and assisting the police when their car was broken in.
Each of the seven winners received a £250 cast prize for their exemplary attitude.
Going above and beyond in the neighbourhood
Francesca Ronaldson was nominated for supporting her neighbours and assisting the police with an investigation. She witnessed an attempted robbery, recorded it on her phone and called the police on behalf her neighbours and checked to make sure her neighbours were well.
Francesca, 19, from Aberdeen, said: "It feels incredible to be awarded Best Neighbour in Campus. I am so blessed that Steve decided to nominate me and I had absolutely no idea! It was a completed shock. All I did was what I believed to be common decency, and to be told that I positively impacted someone's life in such a way they felt the need to share it is deeply heart-rending.
"Students could be more considerate just by turning down music after 11pm and shutting windows. And when you come home at night don't yell in the street. Just be respectful to your neighbours. As students we have a bad enough reputation as it is for partying and noise but it only takes one household to brighten up the lives of residents by being well mannered and polite.
"Students have to understand that they are moving into a community and if you help the community they will help you. Being part of our street has been lovely because we have made the effort to say 'Hi' to people passing in the street, know the children who play football in the street, it makes residents much more comfortable which ultimately results in a better living experience for your household."
Steve Strouzer, who nominated Francesca, said: "Having had issues with student residents in the past, we were touched and delighted that she should showed such thoughtfulness and acted on it. We have talked about it all day, and her actions outshone any problems with the attempted robbery."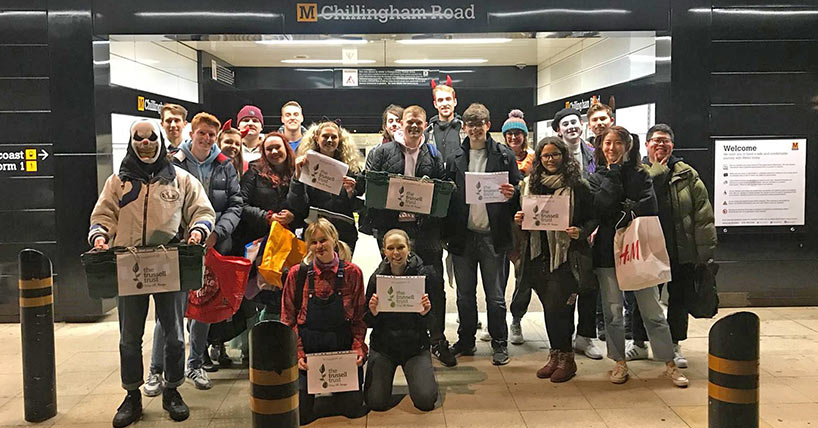 Trick or treating for the hungry on Halloween
On Halloween, a group of 50 students dressed up to hit the streets of Jesmond and Heaton to collect any canned or non-perishable goods that people can spare.
A day later, the students donated their 'treats' to the Newcastle East Foodbank, in Heaton, which is part of the Trussell Trust network.
The six students who led the initiative and scooped up the prize are: Luke Barrett, Adonia Hirst, Kerri Robson, Emma Jelpke, Matthew Rodrick and Adam Kinneen.
Kerri Robson said: "We didn't know that we'd been nominated, but we obviously feel very honoured to have received it.
"By going and seeing the amazing work that the Trussell Trust Food Banks do for the community we can now appreciate just how serious an issue the food shortage in the United Kingdom really is and as a result, we feel so much more connected to our neighbourhoods' problems.
"The Trussell Trust are a truly amazing organisation and they need as much support as possible. If you have a free afternoon or feel like getting involved on any level, get in contact with the Newcastle East Food Bank in Heaton. Maureen and Brian are the kindest people and would be so grateful for any help."
Maureen Wilkinson, Newcastle East Foodbank Manager, said: "The students organised an alternative trick or treat on Halloween, knocking on doors across Heaton and Jesmond to collect food for us here at the Newcastle East Food Bank and they were all just amazing - going over and above and beyond anything we could ask for.
"It is always good to hear of the goodwill that's with our students as they usually get a very hard time with the press and we were thrilled by each one them who gave their time and energy in helping those in our community who are having a hard time.
Best Neighbour on Campus
The BNOC, established in 2018 by Newcastle University and its Students' Union, celebrates the great work students do within their communities, either through volunteering, supporting local residents or being considerate, responsible neighbours.
This year, Newcastle has joined forces with Northumbria University and its Students' Union, extending the award city wide to celebrate the 50,000 students who live in Newcastle and the positive contribution they make to the city.
Each month until the end of term the aim is to find Newcastle's BNOC.
The judging panel includes local residents, local councillors and representatives from the Universities.
More information and details of how to nominate and the terms and conditions of the competition can be found on the awards website: http://www.ncl.ac.uk/best-neighbour/
---
Latest News