Prestigious honour for cancer drug development
Published on: 16 February 2021
A world-leading cancer expert has been recognised for her clinical trials to help fight the illness, including developing new drugs that are now standard treatments for patients.
Ruth Plummer, Clinical Professor of Experimental Cancer Medicine at Newcastle University, has received the ESMO Targeted Anticancer Therapies (TAT) 2021 Honorary Award.
Professor Plummer has made significant contributions to extending and enhancing the lives of those with cancer, such as being part of a Newcastle team which developed Rubraca®, an ovarian cancer drug that is now used on the NHS.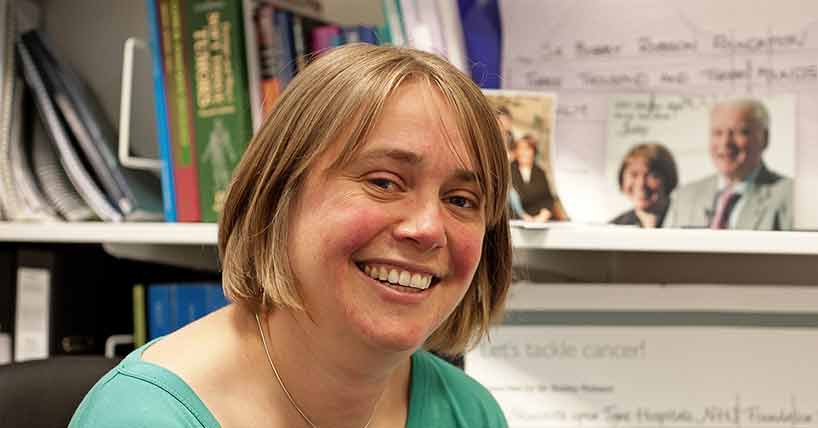 Dedicated research
Professor Plummer heads up the Sir Bobby Robson Cancer Trials Research Centre and leads the Newcastle Experimental Cancer Medicine Centre and CRUK Newcastle Cancer Centre.
Her clinical practice also involves leading on the systemic therapies for skin cancer, with a portfolio of trials across all phases of drug development in skin cancers.
Professor Plummer said: "I am delighted to be recognised with this award. Having spent my working life, over the last 20 years, developing the early phase trials practice in our dedicated cancer research unit, it is wonderful to realise that the work of this team is being recognised.
"Being given the honorary award is recognition for the trials team that our work is being viewed as high-quality."
Professor Plummer's research interests are in the field of DNA repair and early phase clinical trials of novel agents, taking the first-in-class PARP inhibitor into the clinic in 2003, ATR inhibitor in 2012 and MCT1 inhibitor in 2014.
Key development
Her work contributed to the development and validation of pharmacokinetic and pharmacodynamic assays in early clinical drug development, assays that are now embedded in early phase trial design.
Professor Plummer, from Newcastle University Centre for Cancer, added: "To be successful in any field having supportive mentors is key.
"I had the honour to have been mentored by outstanding and stimulating scientists and I hope to be a good mentor myself for the next generations of researchers that work with me."
---
Latest News