Medical students get funding boost to buy emergency vehicle
Published on: 24 June 2021
Medical students at Newcastle University have received a funding boost of almost £20,000 to buy a response vehicle to attend emergency calls in Tyneside.
Scores of medical students have volunteered on the frontline to support the North East Ambulance Service (NEAS) to attend patients in their critical time of need.
Launched in January 2020, the Newcastle University First Responders initiative is staffed by 32 highly skilled and dedicated students, who have all undertaken intensive training with NEAS.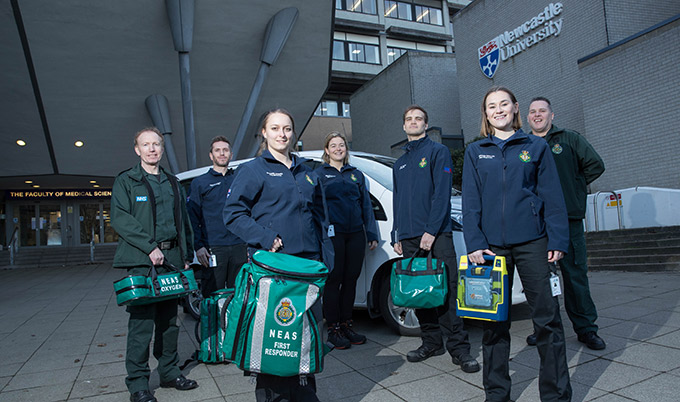 Generous donation
Now, thanks to the generosity of the George Henderson Endowment Fund, the First Responders have been given the funding they need to buy a new electric-hybrid vehicle for their emergency calls.
Newcastle University student lead, Ollie Kirby, said: "We're incredibly lucky as this funding is allowing us to have our own dedicated emergency vehicle to continue, and expand, the support we give NEAS.
"As First Responders we attend the highest category 999 calls in the Newcastle area to help the ambulance service offer the best emergency service possible to the area.
"It's a fantastic opportunity for Newcastle University medical students to have hands-on clinical experience to treat patients and to make a sizeable impact on helping our local community throughout the week.
"The pandemic has been really challenging and the First Responders have bravely carried on doing all they can in incredibly difficult circumstances.
"Every volunteer has done a great job and we're delighted to have been given this funding to buy our very own new emergency vehicle."
The Newcastle University First Responder initiative sees medical students provide a uniformed service dispatched by the NHS Trust. Pairs of students volunteer their time across shifts throughout the week.
Waiting times reduced
On average, the team attends five urgent calls during each eight-hour shift and, as a direct result of their support, NEAS has reported waiting times for ambulance in the Tyneside area have been significantly reduced.
The First Responders give emergency assessment and offer prompt treatment to members of the public ahead of the arrival of additional NEAS resources.
Marc Lintern, Director of Careers Service and Deputy Academic Registrar at Newcastle University, said: "Being a First Responder provides great experience for our medical students alongside their clinical training, and more importantly is a fantastic commitment and resource for our local community.
"The funding that has been provided for their vehicle is in recognition of the contribution that our students make in supporting our Ambulance Service and local people."
---
Latest News