Newcastle University is Under the Stars
Published on: 15 February 2022
Campus to play host to free night-time art event in March
Festival finale
Over four nights in March, a new free event will bring magic to visitors of all ages in Newcastle city centre.

North of the Tyne, Under the Stars is all about weaving a new fable for the region. Driven by a sense of place and the stories woven through it – imaginative, magical and locally resonant stories – it will use large scale projection, atmospheric imagery, sound and fire to capture the character, beauty and diversity of this region and ignite the imagination of the audience.

Seven events will take place across the North of Tyne area, culminating in the Festival finale in Newcastle city centre, including Newcastle University's campus, from Thursday 10 to Sunday 13 March. The event is supported by Newcastle City Council.

Produced by Pinwheel and DAT Events and commissioned by the North of Tyne Combined Authority, Under the Stars will welcome visitors of all ages, including young children, to engage in the experience, both in their local area and the Festival finale.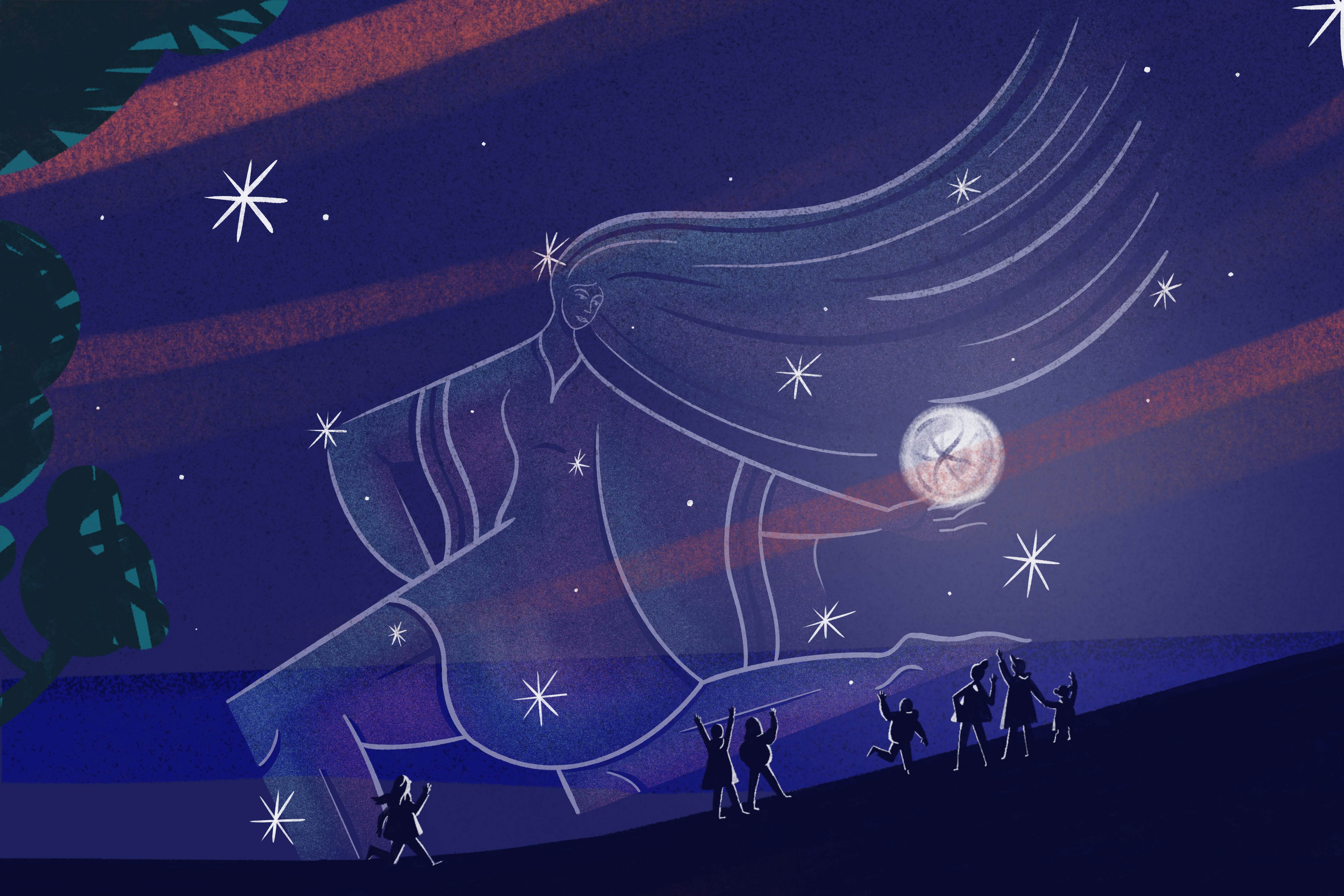 Incredible region
Professor Jane Robinson, Pro-Vice-Chancellor, Engagement and Place at Newcastle University, said: "Culture plays such an important role in bringing people together and it feels even more important than ever as we emerge from the pandemic.
"Newcastle University is delighted to be supporting Under the Stars and we look forward to welcoming local communities to be part of this spectacular project, telling the story of this incredible region."
Connecting the seven different events is the tale of a mysterious and magical visitor, a Story-Weaver, called down from the stars to travel the region, seeking the connections, fables, facts and characters and drawing together the threads to spin a new mythology for the North of Tyne area. She will be visiting North Shields, Wallsend, Hexham, Blyth, Byker and Fenham to engage local people in her alchemy.

Finally, she will take all she has found to Newcastle city centre and invite us to witness the magic she has woven from the tales she has been told. From an enormous zoetrope powered by the inventiveness of our region, to a collection of ethereal, ghostly creatures and mythical beasts and an ever-changing magic carpet of intricate patterns, these enchanting works will play out across the iconic buildings and streets.

The core story has been developed by a collaborative team of artists including Newcastle-based projection artists, NOVAK, and composer Roma Yagnik, as well as Director Simon Sharkey and Designer Robin Peoples. The March festival in Newcastle will have brand new commissions from companies including Illuminos, Limbic Cinema, Heinrich & Palmer and Imitating the Dog, all high-profile companies known for creating ambitious works for festivals in the UK and across the world. Fire and pyrotechnic effects all the events will be delivered by LightFires.
Magical story
Katy Fuller, Creative Director at Pinwheel says: "I am thrilled to finally be able to present this magical story, which is being brought to life by the most talented group of artists. From the events across the region, to the work we are doing in schools, to the finale in Newcastle, our aim is to captivate audiences with this love letter to their region, mixing the real and the mythical and firing up the imagination."

Jamie Driscoll, North of Tyne Major says: "Stories give us a sense of who we are and where we belong. They bring us together and build community bonds. Storytelling has always been a fundamental part of being human.

"The North East has a rich heritage, and every community has its own story to tell. Through February and March, North of Tyne's Under the Stars storytelling events will weave together the stories from places across our region. There'll be free events in neighbourhoods from Hexham to North Shields, all leading up to a spectacular festival in Newcastle in early March.

"This is the first event of its kind in our region. What an opportunity to show why the North East is such a special place and showcase the fantastic talent we have here."

Cllr John-Paul Stephenson, Newcastle City Council cabinet member for Public Health and Culture, said: "Our city and the wider region has a rich history and a great story to tell and I'm looking forward to seeing this unfold through Under the Stars.

"The cultural sector has experienced a really tough time during the Covid-19 pandemic and like most industries is really having to work hard to get back on its feet. I'm sure these events, bringing together some of the best and brightest creative minds from our region and further afield, will be an excellent addition to our cultural offer early in the New Year."


North of the Tyne, Under the Stars - Neighbourhood Events
• Fri 18 – Sat 19 February, 6pm – 9pm: Ridley Park, Blyth & Northumberland Park, North Shields
• Fri 25 – Sat 26 February, 6pm – 9pm: Richardson Dees Park, Wallsend & Ballast Hills, Byker
• Fri 4 – Sat 5 March, 6pm – 9pm: Abbey Grounds, Hexham & Nuns Moor Park, Fenham

North of the Tyne, Under the Stars - Festival
• Thurs 10 – Sun 13 March, 6.30pm – 10pm: Newcastle City Centre

All events are free to attend and no booking is required. Check website before attending for latest information, accessibility and Covid safety advice. Visitors can follow the story and find out more information at undernorthtynestars.co.uk or follow @NTUnderStars on Facebook, Twitter and Instagram.
---
Latest News