Prestigious academy elects leading scientists to its Fellowship
Published on: 11 May 2022
The Academy of Medical Sciences has elected two prominent Newcastle University academics to its Fellowship.
Professors Nicola Curtin and Rajesh Kalariahave been recognised for their remarkable contributions to biomedical and health science and their ability to generate new knowledge and improve the health of people across the globe.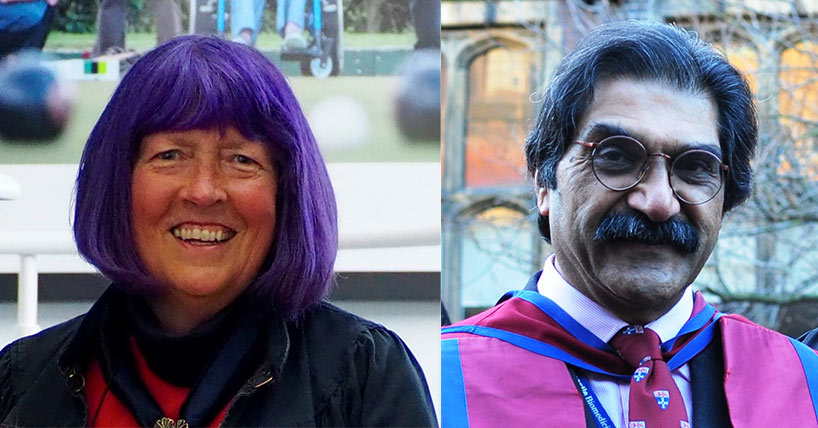 Cancer treatment breakthroughs
Professor Curtin has more than 30 years' experience in the development and biological evaluation of novel drugs to treat cancer and the development of biomarkers to predict and assess their effects.
One of her most important contributions was in collaboration with scientists in Sheffield to uncover the synthetic lethality of PARP inhibitors in cancers defective in a particular DNA repair pathway, often due to BRCA mutations. This has led to the clinical success of several PARP inhibitors, including Rubraca® developed through a collaboration of Newcastle with Agouron Pharmaceuticals.
Professor Curtin said: "I feel really honoured to be elected as a Fellow of the Academy of Medical Sciences. I have always been driven by scientific curiosity and a desire to make a difference to human health and wellbeing.
"Studying the DNA damage response, which is fundamental to biology and particularly the biology of cancer, has satisfied the former objective. My work in Newcastle's Anticancer Drug Discovery group contributed to the development of novel anticancer drugs and has helped satisfy the latter.
"It is really exciting to be recognised for my contribution, firstly by the Ruffolo Career Achievement award from ASPET last year, the Heatley Medal from the Biochemical Society earlier this year and now to be elected as a Fellow of the Academy of Medical Sciences.
"I would like to thank all of those who nominated and supported me in gaining these honours and, in particular, Caroline Austin who not only suggested it in the first place but has been a constant source of encouragement that gave me the courage to go for the Academy of Medical Sciences Fellowship."
International reputation in Dementia
Professor Kalaria has an international reputation for work on dementia and was instrumental in developing the 'vascular hypothesis of dementia including Alzheimer's disease' and on risk factors of these conditions in indigenous populations of developing countries.
He is the liaison officer between the International Brain Research Organisation and World Federation of Neurology, and a member of the Africa Task Force of the European Academy of Neurology. He currently serves on the Executive Committee of the International Society of Neuropathology.
Professor Kalaria said: "It is an extraordinary privilege to be inducted into the Academy and a tremendous honour to be especially recognised for my contributions to understanding vascular and stroke-related dementias."
This year is the highest number of new Fellows to have been elected to the Academy of Medical Sciences from across the UK with a total of 60.
Professor Dame Anne Johnson PMedSci, President of the Academy of Medical Sciences said: "It gives me great pleasure to welcome these 60 experts to the Fellowship to help to address the major health challenges facing society.
"Each of the new Fellows has made important contributions to the health of our society, with a breadth of expertise ranging from the physical and mental health of young people to parasitic diseases and computational biology.
"The diversity of biomedical and health expertise within our Fellowship is a formidable asset that in the past year has informed our work on critical issues such as tackling the Covid-19 pandemic, understanding the health impacts of climate change, addressing health inequalities, and making the case for funding science.
"The new Fellows of 2022 will be critical to helping us deliver our ambitious 10-year strategy that we will launch after this year."
The new Fellows will be formally admitted to the Academy on Monday 27 June 2022.
---
Latest News