Folk music students perform at 10 Downing Street
Published on: 13 May 2022
Undergraduate guitarists John Hinton and Jack Hogsden performed at the Downing Street Spring Showcase which promotes the best of British business.
Celebrate and represent
The students, who are both studying on Newcastle University's influential Folk and Traditional Music degree, were invited to perform by Downing Street officials.

The Spring Showcase saw Downing Street transformed into a street market with stalls from a range of small British businesses. John and Jack played guitar in front of Prime Minister Boris Johnson as well as other Government ministers including International Trade Secretary Anne-Marie Trevelyan, Environment Secretary George Eustice and Business Secretary Kwasi Kwarteng.

John, who is in his first year, said: "Sharing your music in new places is always exciting but sharing it with the Prime Minister is something else. It was surreal and a privilege to take folk music behind the Downing Street gates."

Final year student Jack said: "Being asked to attend an event such as this comes once in a lifetime, and being given the opportunity to perform on the doorstep of No.10 Downing Street is something I won't forget in a hurry. To have the chance to celebrate and represent British Folk Music is an honour, and for that music to be what defines me is something that I take immense pride in."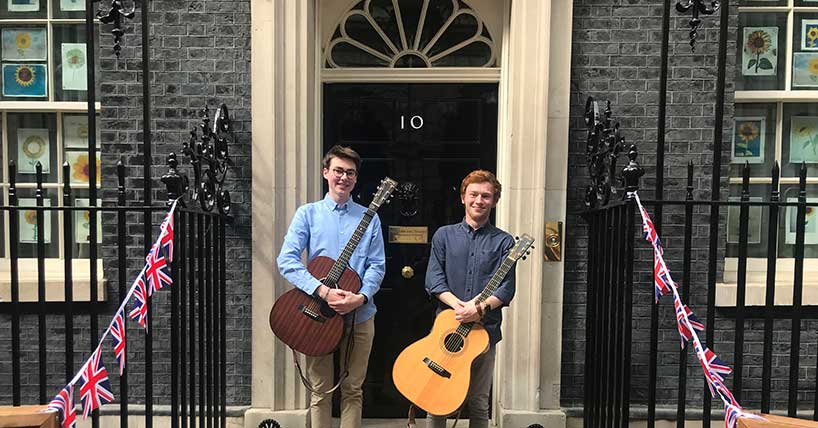 Cultural value
Catriona Macdonald, Degree Programme Director BA in Folk and Traditional Music accompanied John and Jack to the event.

"Our No.10 visit recognises the cultural value and esteem that Folk and Traditional music of these islands is held in," said Catrional. "I am delighted that in our celebratory 21st year of Newcastle University's folk degree our talented students got the chance to be the first folk musicians to play at No.10. That is something that will stay with us all for the rest of our lives."

The Folk and Traditional Music Degree recently celebrated its 21st birthday. In that time it has had a huge influence on the folk scene, both onstage and backstage. Those who have studied on the course includes members of Bellowhead, The Elephant Sessions, Emily Portman, The Shee and The Unthanks.
---
Latest News