student community research
Students showcase their own community-based research
Published on: 9 May 2022
Students at Newcastle University have showcased research they have been carrying out throughout the academic year with a range of local charities and voluntary organisations.
Working with community partners
The 28 students, who are all Stage Two and Stage Three Politics students, presented their research at their Community-Based Research Annual Conference, which was attended by representatives of the organisations they have been working with, as well as other voluntary groups, and staff across the University.
Established in 2015, the Community-Based Research module for Stage Three students sees them work with a community partner to carry out a piece of research in response to a specific issue or challenge raised by the organisation. At the end of the academic year, the students produce a report detailing what they have found and their recommendations to address the issue.
This year, one of the charities the students worked with is Newcastle-based Street Paws, which provides free accessible vet care and support services to homeless people and their pets across the UK.
Currently, an estimated three quarters of accommodation providers for homeless people do not accept pets. Street Paws asked Stage Three students Robert Currie and Maddie Topham to carry out research to identify and better understand the issues that restrict homeless pet owners being able to access hostels and other accommodation. To do this, Robert and Maddie attended outreach events held by Street Paws and talked to homeless people with pets about their experiences. They also conducted a survey with accommodation providers across the North of England.
Michelle Southern, Founder and Director of Street Paws, said: "The bond between a homeless person and their animal is profound.
"Homeless people care deeply about the health and welfare of their pets but can often find it difficult to access veterinary care or accommodation.
"The Street Paws Dog Champions Scheme supports hostels and accommodation providers to become more pet friendly and accept both homeless pet owner and pet, and it was great to hear from Robert and Maddie about what their research highlighted and how access to accommodation for homeless people with pets can be improved."
Robert said: "I have absolutely loved my time on this module. It has definitely piqued my interest in working in local politics and the third sector and helped me to develop many useful skills that will help me professionally moving forward."
Maddie added: "I can't recommend this module enough. The work is so rewarding and has really solidified my aspirations to head into the third sector. I have genuinely loved it and if anyone has the opportunity to do this module, I would definitely say don't hesitate to go for it."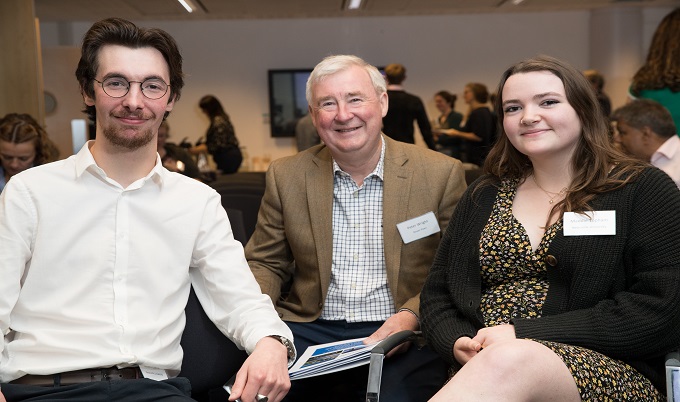 Invaluable experience
Other Stage Three students worked with Wearside Women in Need (WWiN), which provides accessible community-based services to women and children at risk of, or experiencing, abuse. Students Jasmine Chima, Chris Jenner and Millie Probert looked at the implications of unregulated refuges for families escaping domestic violence. The three students gained a unique insight to this very sensitive and important topic by speaking to Local Authority Officers and women who had experience of living in unregulated accommodation that sits outside of the National Network of Refuge provision. The students uncovered some stark findings that are of wide concern in the Housing Sector
"Working with WWiN has been an invaluable experience," said Jasmine. "The chance to gain amazing employable experience has been incredible, and it's given me so much more confidence going forward. Being able to interview a focus group of domestic violence victims was eye-opening, this really has helped us grow and develop as people and as a team."
Becky Rogerson, Director of WWiN, said: "The students have been exceptional in their energy, enthusiasm and determination to really understand and uncover the issues in this research. The topic area is very sensitive and seldom reported but a huge problem for vulnerable women. I thank the University for their brave support in picking this issue as a research topic – it really matters".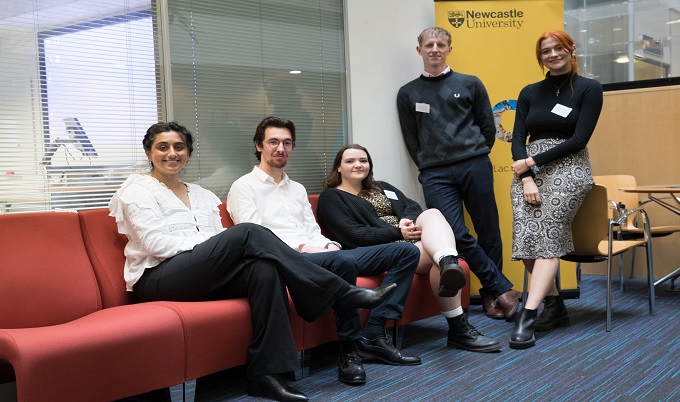 Innovative partnerships
The Community-based Research in Politics module is intended to give final year students an alternative to completing their dissertation and allow them to develop real-world work-based skills such as presentation and communication skills, teamwork and project management.
In previous years, organisations have used the work done by Newcastle University students as the basis of funding submissions or used it to support their own policy and advocacy work.
Judy Murray, who leads the module, said: "The work our students carry out with external partners gives them experience of leading a real research project that addresses a genuine gap in the knowledge of policy-makers and practitioners working in the North-East of England.
"Until they start working with these charities, some of our students may not have appreciated the challenges that these organisations and the people they work with face, so they can bring a totally fresh approach. We know our partners greatly value the work and insight that our students provide, and students have found the experience really rewarding – with it often leading to them successfully finding employment in the sector after graduating."
Also at the conference, Stage Two students presented posters outlining their experiences and reflections on the time they spent carrying out work experience with organisations including Groundwork, Youth Focus NE, and Stomping Grounds, as well as a number of local MPs.
Professor Kyle Grayson, Head of the School of Geography, Politics and Sociology, Newcastle University, said: "I am extremely proud of the incredible work our students have done, and the difference this had made for our valued local partners. These innovative partnerships are an important part of our teaching, which gives our students the skills to become critically engaged global citizens and inspires them to play a part in addressing some of the biggest issues facing society. I am hugely grateful to our partners for the trust and support they have shown, and hope that we will have many further opportunities to work together in the future."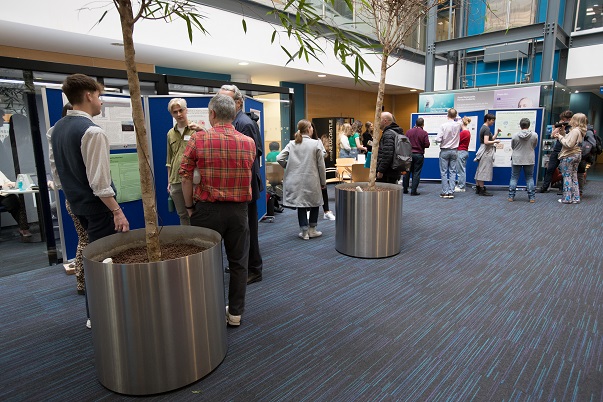 ---
Latest News