THE Awards 2022 shortlist
Newcastle shortlisted for University of the Year
Published on: 1 September 2022
Newcastle University has been shortlisted for the prestigious Times Higher Education University of the Year award in recognition of its commitment to Environmental and Social Justice.
The award, which is presented to an institution for bold and innovative initiatives during the 2020-21 academic year, reflects Newcastle's decision to step up its commitment to sustainability by embedding Environmental Justice as one of its core values at the heart of the organisation.
This was in response, not only to the climate and ecological emergency, but also to calls from our students to be at the forefront of addressing the biggest global challenges facing their generation.
Building on its long-established expertise in sustainable development and climate research, the University is working to embed these core values throughout its research, education, operations and work with communities across the globe.
And earlier this year, the University's achievements were recognised by The Times Higher Education Impact Rankings 2022 with Newcastle ranked 8th in the world (1st in the UK) for its ongoing work towards the United Nations Sustainable Development Goals (SDGs).
Professor Chris Day, Vice-Chancellor and President, Newcastle University, said:
"Being shortlisted for University of the Year 2022 is an outstanding achievement and a credit to the hard work and commitment of all colleagues and students at Newcastle University.
"Despite the global pandemic and the widespread uncertainty this brought for the Higher Education sector, at Newcastle we were determined to drive forward this important agenda which has strong support from across our university community.
"As well as being essential to our work in research and education, these values are embedded in our partnership working, regionally and globally. Aligning our work with the UN SDGs, it is only by working together – sharing ideas, listening to our communities and responding to the needs of society – that Universities like ours can drive positive, lasting change."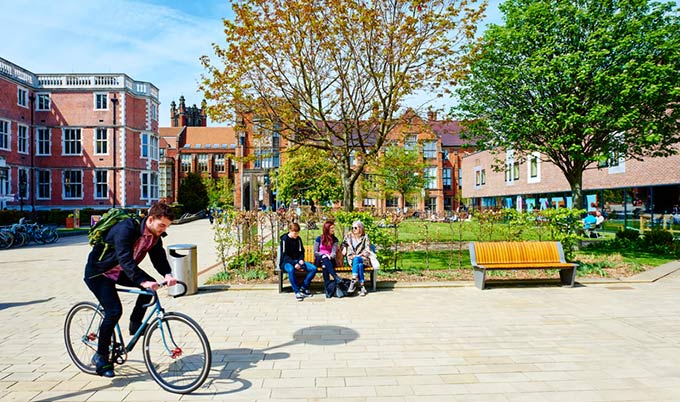 Embracing Environmental Justice
The shortlisting recognises projects and initiatives that underpin Newcastle University's focus on Social and Environmental Justice. These include:
The publication of the University's Phase I Climate Action Plan and becoming a signatory of the SDG Accord of the Environmental Association of Universities and Colleges.
Embedding environmental concerns within the University's Socially Responsible Investment Policy following divestment from fossil fuels in 2020 and committing £15m a year to achieve Net-Zero CO2 emissions by 2030.
Establishing student sustainability representatives in schools and offering more than 100 compulsory and optional environmental sustainability modules for students.
Co-leading the first Newcastle Student Climate Change Summit and Newcastle150, challenging young people to create a lasting legacy for the city.
Launch of Inclusive Futures – a leadership programme co-delivered with Common Purpose and designed to support ethnically minoritised colleagues
Launch of a new programme of Climate Leadership Scholarships, enabling students to become actively engaged with research projects addressing the UNSDGs.
Awarded University of Sanctuary status and offering sanctuary scholarships. Newcastle University is also working extensively with the Council for At-Risk Academics (CARA) to provide academic fellowships to scholars seeking refuge from situations of conflict and hardship, including in the context of the war in Ukraine.
Further development of Newcastle University's Social Justice Advisory Group, which brings together academics, professional services colleagues and practitioners from the voluntary, community and social enterprise sector to develop projects that address nine key themes of social justice.
Newcastle also became the first city in the UK where key institutions - Newcastle University, Newcastle Hospitals NHS Foundation Trust and Newcastle City Council - all declared a Climate Emergency, and this partnership working is highlighted in the recently published People, Planet and Prosperity report.
Success in the city
The University has also been shortlisted for Outstanding Contribution to Equality, Diversity and Inclusion for its Inclusive Futures programme, which aims to support ethnically minoritised emerging leaders within the institution, and Glyn Nelson, a Specialist Experimental Scientific Officer in the BioImaging facility has been shortlisted for Outstanding Technician of the Year. Glyn's specialism is light microscopy and image analysis for which he has gained international recognition - working with an international community of light microscopists , that he has helped to build, significant steps were made to address the issue of quality and reproducibility in the field of light microscopy. His work in this area resulted in three Nature Methods communications and the award of MRC grant income.
Also nominated for University of the Year in this year's Times Higher Education (THE) Awards is Northumbria University. It is the first time, outside of London, that two institutions from the same city have appeared on the same THE University of the Year shortlist and firmly cements the city as a northern powerhouse of world-leading research and education.
The winner of the University of the Year will be revealed at the Times Higher Education (THE) Awards ceremony in London on November 17, 2022.
---
Latest News