Newcastle University and Coram announce research partnership
Published on: 3 March 2023
Newcastle University and Coram are coming together in a new partnership designed to generate collaborative research aiming at shaping a better future for children and young people.
Future of Youth
The partnership between the UK's first and longest serving charity and one of the world's leading research universities was launched today at a Future of Youth joint event on the Coram campus in central London, where researchers from both institutions presented recent research and set out how they will collaborate to bring about positive policy change for children and young people.

Areas addressed by speakers from the two institutions included:
• Cost of living crisis: how the cost of living crisis is impacting on families in both London and the North East
• Childcare: ahead of the Budget, what are the long-term reforms needed to deliver high quality childcare for all in the early years?
• Technology: Designing technology with and for children to enable learning, play and growth
• Wellbeing: evolving how we work in schools to improve children's life skills and emotional wellbeing
The keynote speaker was Al Aynsley Green, formerly the James Spence Professor of Child Health at Newcastle University and the first Children's Commissioner for England.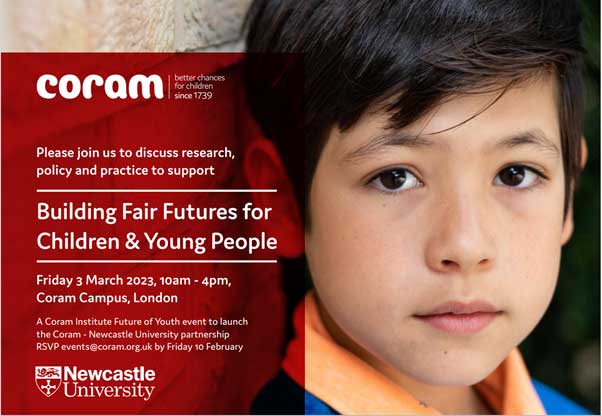 Strong and sustainable solutions
Professor Matthew Grenby, Interim Pro-Vice-Chancellor, Research and Innovation, Newcastle University, said: "Children and young people today are facing a wide and worrying range of challenges, problems that seem to refuse to go away. By bringing together innovative research being done at Newcastle University's Centre for Children and Youth and Coram's long experience of offering practical help to vulnerable children and families, we can start to put in place some strong and sustainable solutions to these problems.

"Newcastle University's researchers, working across a wide range of disciplines, are investigating what holds young people back and what kinds of interventions can be made to support their wellbeing. The partnership with Coram will, we hope, enable this research to fulfil its potential to make a real difference in people's lives."
Dr Carol Homden CBE, Coram Group CEO, said: "The partnership between Coram and Newcastle University has come about because we share a vision for how we can work together on making the lives of children and young people better. We will be working together to generate research that translates into impact, enabling policy change. All too often children are absent from the public discourse and that needs to change. I believe this partnership represents an opportunity to combine our strengths and expertise to challenge the narrative, influence policy and ultimately fulfil our shared aim of delivering positive change for children and young people."
---
Latest News