Newcastle University Fine Art student wins new art prize
Published on: 26 June 2023
Final Year Fine Art student Britney Fraser has won the Dogger Bank Purchase Prize.
Heritage and culture
Her pieces Alreet and Howay will go on display at the wind farm's Operation and Maintenance base at the Port of Tyne.
Britney, from Widdrington, in Northumberland, draws upon her family's mining heritage and working class culture in her work. Alreet and Howay are part of her final year degree show and part of a series of pieces featuring regional words, also including 'canny' and 'divvnt' in her family's handwriting on traditional 'proggy' mats made from recycled textiles. Her art highlights untold, overlooked, and undervalued stories from Northumberland's working communities by transforming materials associated with manual labour into sculptural elevations of trade workers.
"My art is all about work," says Britney. "So I'm really happy that something so grounded in the North East and in its working-class communities will go on show at Dogger Bank's offices where people will see it every day."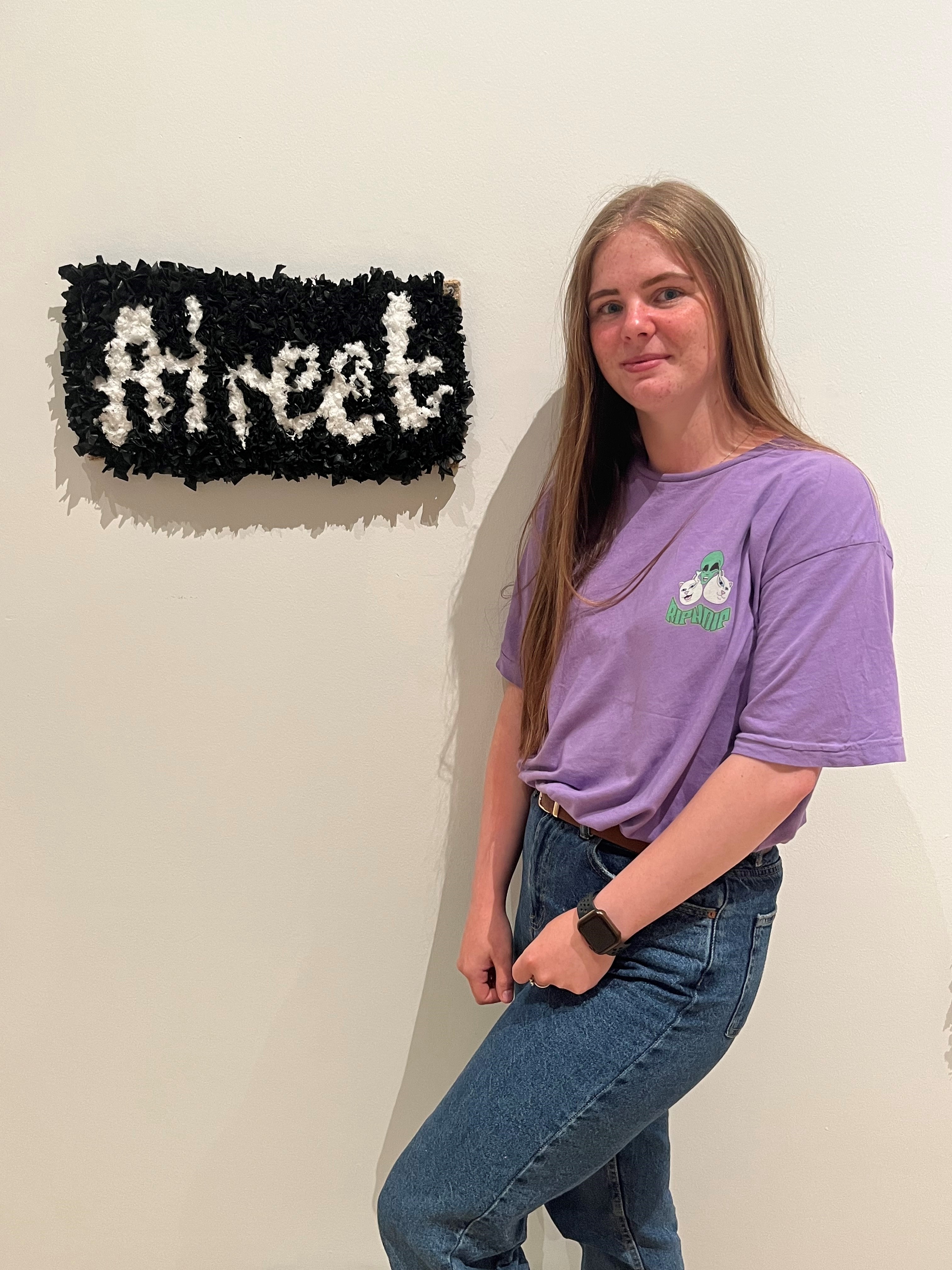 Inpsiring artwork
Felicity Wann, Operations Leader at Dogger Bank Wind Farm, said: "We are delighted to present the Dogger Bank Purchase Prize Award to Britney for her inspiring artwork, which honours the North-East of England. We are excited to display Britney's Howay and 'Alreet' artworks in the entrance to our Operations and Maintenance base located at The Port of Tyne, giving employees and visitors the chance to view the pieces every time they enter the base. At Dogger Bank Wind Farm, it is our strategy to invest into the local community, so it is fantastic for the winning art pieces to have come from a student from Northumberland in the North-East of England."
Dogger Bank Wind Farm is working with Newcastle art gallery Gallagher and Turner on the purchase prize for the next four years, with a yearly purchase prize for art students at Newcastle and Sunderland Universities. Selected works will be displayed at the Wind Farm's Operations and Maintenance base.
Dogger Bank Wind Farm is a joint venture between SSE Renewables (40%), Equinor (40%) and Vårgrønn (20%). SSE Renewables is lead operator for the development and construction of Dogger Bank Wind Farm. Equinor will be lead operator of the wind farm on completion for its expected operational life of around 35 years.
The wind farm, which will generate 3.6 GW of capacity, is being built in three 1.2 GW phases, named Dogger Bank A, B & C, and will be able to power the equivalent of 6 million UK homes on completion. Once complete, Dogger Bank will become the world's largest offshore wind farm.
You can see Britney's artworks at the Newcastle University Fine Art Degree Show which reopens in Space Liverpool from 28 June to 1 July.
---
Latest News