Durty Beanz: NEVER EVER
Published on: 3 July 2023
A new film installation by Glasgow-based action research group Durty Beanz is being launched at The Gymnasium Gallery in Berwick.
Contemporary issues
The film, NEVER EVER was developed during a residency in 2022 with The Maltings and Newcastle University's Centre for Rural Economy and Institute for Creative Arts Practice which explored the production of food, its consumption and how its value is constructed by producers and consumers.
The film follows a fictional television presenter and her crew as they travel across Northumberland, apparently shooting some kind of documentary about the region's food and farms, including Chain Bridge Honey Farm, near Berwick and Morwick Dairy at Morpeth. The only problem is they're not very good. Less Countryfile… more Country-fail.
NEVER EVER offers both a comedic and poignant space for reflection, an invitation to think about some of the language, values and ideas commonly associated with contemporary issues of environment and technology.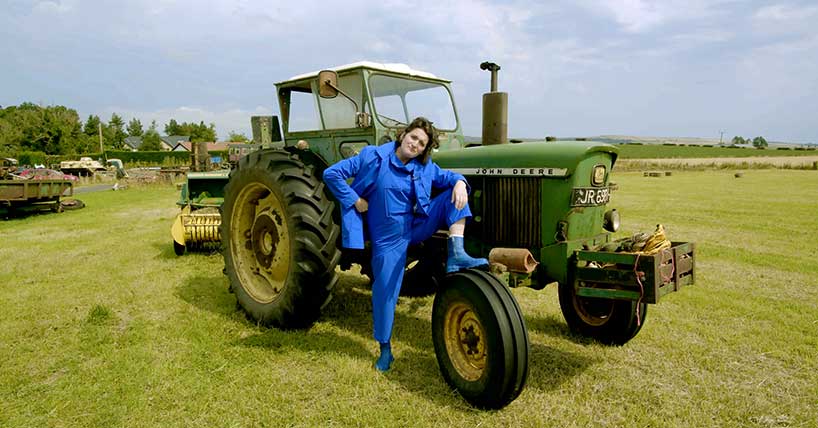 Contemporary rural issues
Dr Beth Clark, Lecturer in Food Marketing at the Centre for Rural Economy said: "Having Durty Beanz as artists in residence has provided a unique opportunity to engage and reflect upon several food and farming issues. Their approach and work give a valuable platform to talk about these issues in a way that is accessible, engaging and timely. I'm excited for their film NEVER EVER to continue these conversations further."
James Lowther, Head of Visual Art at The Maltings said: "Our residency with Newcastle University provides an opportunity for artists and academics to collaborate and share knowledge around contemporary rural issues and I'm delighted we can present this new work by Durty Beanz exploring our perceptions of rural food production."
Established in 2019, Durty Beanz is a network of international artists, academics and makers. The group works in a diverse range of media, operating at the intersection of contemporary art practice and digital anthropology. Their aim is to consider the material and symbolic practices of food, as well as the institutions and understandings related to its production, consumption, distribution and representation.
NEVER EVER at The Gymnasium Gallery, Berwick-upon-Tweed is open from 8 July – 17 September, Wednesday to Sunday, 11am-4pm. Free admission, donations welcome.
---
Latest News