Black Engineering Network
Networking group for Black and Global Majority students established
Published on: 16 November 2023
A new network has been launched at Newcastle University's School of Engineering to foster a sense of belonging for Black and Global Majority students.
The Black Engineering Network was set up following the recommendations of a research project, co-created with a Student Advisory Board, that explored ways of reducing the awarding gap between Black and White students. The project was led by Dr Amina Razak of the Inclusive Newcastle Knowledge Centre at Newcastle University. One of the key recommendations from the report was the need for peer networks which help students from Black and Global Majority backgrounds feel a stronger sense of belonging by being part of an inclusive engineering community.
The network was launched at a special event at the redeveloped Stephenson Building at Newcastle University, where students were welcomed by Professor Jarka Glassey, Director of Education, and Professor Daniel Coca, Head of the School of Engineering. Professor Alison Shaw, Director of the Inclusive Newcastle Knowledge Centre chaired the discussion.
Chi Onwurah MP attended the launch and delivered the keynote address, while students and academics had an opportunity to raise questions and participate in the discussion during a Q+A session with a panel of students, alumni and colleagues.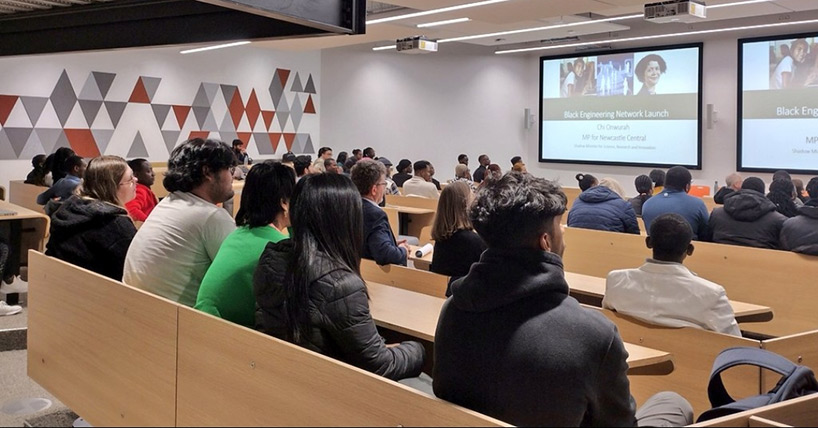 Fostering a sense of belonging
Professor Shaw said: "Helping to reduce the awarding gap is challenging because its causes are complex and not well understood. This pilot project needed the full engagement of the School of Engineering, whose proactive role was pivotal in supporting such an empowering research project which put Black students in the lead. One of the recommendations of the report was the establishment of a Black Engineering Network, and we are very proud that this Network has been launched in the School of Engineering. We will evaluate its impact but have every reason to believe that other parts of the University, as well as the wider sector, can learn from this work."
Professor Daniel Coca added: "The work undertaken by the Student Advisory Board has provided important insights into the experiences of Black and Global Majority students across the School of Engineering. We are grateful for their effort and commitment and that of the alumni who contributed to the research as well as the support of Dr Amina Razak from the Inclusive Newcastle Knowledge Centre who has supported them throughout.
"It is a tremendous achievement and a testament to the commitment of staff as well as students that we have got to this point - it represents a significant amount of work and is something to be celebrated."
Students who attended the launch commented: "I enjoyed networking at the end. And looking forward to meeting new people" and "a really informative session, was amazing to hear from graduates and members of staff that will be a part of the network in future".
---
Latest News