Walker & Bromwich - Llechi a Llafur / Slate or State
A project in North Wales using participatory art to reveal hidden and marginalised histories by working with local communities and heritage sites
Walker & Bromwich's project Llechi a Llafur / Slate or State at Penrhyn Castle, a National Trust property in North Wales, was the culmination of a series of artist residencies at the property, commissioned through the Trust New Art programme as the first partnership between the Trust and Arts Council Wales (2014-17).
Walker & Bromwich's project draws on their participatory art practice and experience of working with communities to explore "the role art can play as an active agent in society, evolving environments and situations within which people can begin to re-examine the world around them."
Their response to the brief to show "Penrhyn in a world context" focussed on The Great Strike of 1900-03, a bitter dispute about pay and working conditions between the Welsh workers at Penrhyn Slate Quarry and its English owners, the Pennant Family, who built the Castle on the profits they made from local slate. The artists collaborated with Côr y Penrhyn (the local male voice choir), locally-based artists and other community participants to bring Welsh voices inside the Castle and foreground the story of The Great Strike through a performance with supporting artworks – banners stating the original demands of the striking quarry workers and a large inflatable sculpture representing the quarry – also co-produced with the community. The artworks together with a film documenting the project were exhibited in the Castle until the end of the summer season.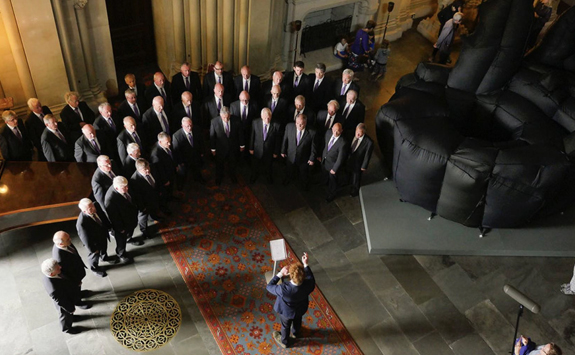 Llechi a Llafur / Slate or State is an early example of an emerging trend in contemporary art commissions in heritage sites other than museums to engage artists in revealing hidden and marginalised histories by working with local communities. In the context of Penrhyn, Walker & Bromwich's project can be characterised as an act of social justice that empowered the local community to address both historic and present-day inequities.
Download project PDF: Walker & Bromwich - Llechi a Llafur / Slate or State (1.3MB)