Bromwich & Walker - The Dragon of Profit and Private Ownership
The Dragon of Profit and Private Ownership & The Worker's Maypole: Participatory Projects inspired by Ashington Miners' Union Banner
The Dragon of Profit and Private Ownership and The Worker's Maypole are two interlinked projects by artist duo Walker & Bromwich originated in an Arts Council England Creative People and Places scheme, which aimed to increase arts engagement in Northumberland. The resulting artworks, including films, participatory performances and public sculpture, were presented in different contexts: in Ashington, at the Edinburgh Arts Festival and De Montfort University Gallery in Leicester. One strand of the research culminated in a monumental public sculpture that became a focal point of The Great Exhibition of the North in Newcastle in 2018.
A Plea for Common Ownership
Walker & Bromwich collaborated with the ex-coal mining community of Ashington to make a film inspired by a banner commissioned by the local branch of the miner's union in 1924. The banner, made for the campaign supporting the nationalisation of the mining industry, draws on mythical archetypes and socialist visual tropes to represent the values of the Mining Federation of Great Britain and the international Socialist Movement. One side depicts a miner as a modern-day St George, slaying 'The Dragon of Profit', while the other is a reworking of Walter Crane's illustration, The Worker's Maypole (1894). The film, A Plea for Common Ownership, restaged the banner's socialist imagery with people from Ashington to examine its usefulness in contemporary contexts.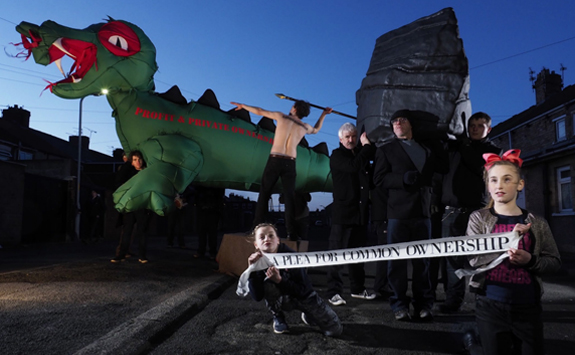 The Dragon was reconfigured as a second performance in collaboration with people from Wester Hailes in Edinburgh, a community similarly impacted by post-industrialisation. The film and performances provided a means through which these communities could re-imagine their relationship to work, profit and labour. Finally, Walker & Bromwich appropriated Grey's Monument in the centre of Newcastle to re-present Crane's Maypole as a public sculpture in a civic space used for protest and debate. In so doing, Walker & Bromwich's work raises wider questions about group dynamics, activism and authorship.
Download project PDF: Bromwich & Walker - Dragon of Profit and Private Ownership and Workers Maypole (1.7MB)