Jane and Louise Wilson - Suspended Island
An outdoor film installation artwork by Jane and Louise Wilson. Commissioned for Trinity House, Newcastle upon Tyne, by BALTIC Centre for Contemporary Art.
Suspended Island (2018) was an outdoor film installation artwork by Jane and Louise Wilson exhibited at Trinity House in Newcastle upon Tyne. The work, commissioned by and made in collaboration with BALTIC Centre for Contemporary Art, provided a new public artwork on Newcastle's Quayside as part of the Great Exhibition of the North in 2018.
Underpinned by research undertaken over twenty years, the artwork revolves around the idea of a 'suspended island' – a location that exists beyond state borders, a place of arrival and departure, presence and absence.
The film is a composite of previously unreleased footage from the artists' audio-visual archive, brought together with a newly commissioned voice-over narrative written by the artists and read by Vesna Maric, a refugee who came to the UK from Bosnia in 1992. Suspended Island responds to its installation location at Trinity House – a historic quayside institution set up to regulate foreign and domestic pilotage on the River Tyne. Trinity House provided a departure point for the artist to explore transient, liminal environments and subjects in their archive, including footage from the similar borderland site of Governor's Island in New York, recorded in 2004, and interviews with refugees recorded in Derby in 2008. Reflecting on these subjects in 2018, the artists explore Britain at a time when Brexit was looming, and notions of borders, statehood and citizenship were a fraught part of the public discourse. Footage of the Palace of Westminster (1999) provides a looming political backdrop in the film.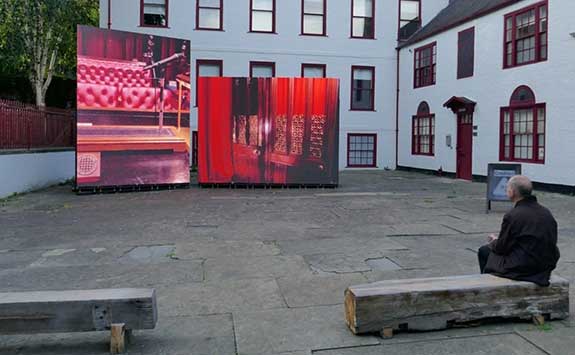 In responding to the political, geographical, and historical circumstances of 2018, the artists engaged in a process of reflection and discovery in their own archive. Suspended Island consequently explores the notions of historical, personal, and institutional memory – and its connection with physical spaces.
Download project PDF: Jane and Louise Wilson - Suspended Island (1.7MB)