Jane and Louise Wilson - We Put The World Before You
A video installation and sculpture by Jane and Louise Wilson which explore the enduring impact of the First World War
This project comprises two outputs: the video installation We Put The World Before You and sculpture and video installation Uncanny Valley (both 2016), in which artists Jane and Louise Wilson explore the enduring impact of the First World War. In looking at how the conflict continues to shape our contemporary experience, the works are a development from – and have been exhibited alongside – the artists' earlier installation Undead Sun (2014).
In We Put The World Before You manipulated archive images showing the facial disfigurement of combatants are knitted together with digital facial reconstructions, and a recurring scene of actors depicting a TV- hypnotist's performance.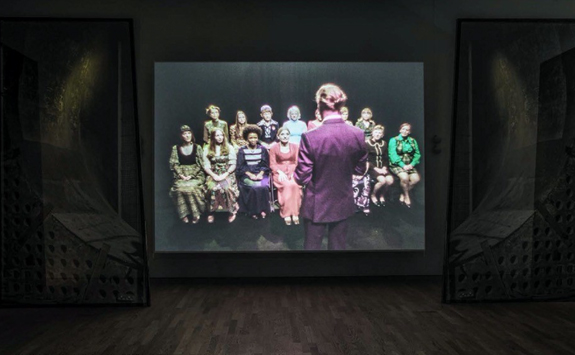 In Uncanny Valley, footage of a plastic surgery procedure on an injured soldier is projected through a 3D-printed sculpture of the artists' heads which sits inside a tank-like structure.
The works revolve around composite, reconstructed, and summoned images – referring simultaneously to the processes of plastic surgery, image manipulation, and hypnosis. The artists invite the audience to reflect on how we cope with violence and injury, and with loss and remembrance.
The project was underpinned by – and made use of materials from – archival research at the Wellcome Collection, BFI Library and Imperial War Museum; further developed through consultations with an oral and maxillofacial surgeon, and collaboration with forensic pathologists.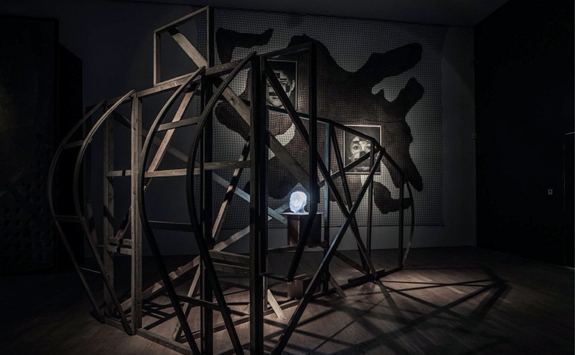 The artworks navigate unexplored links between early medical photography and modern digital imaging, and the role both play in relation to concepts of resemblance and facial recognition and reconstruction. We Put The World Before You was commissioned by Film and Video Umbrella in partnership with Middlesbrough Institute of Modern Art and Wolverhampton Art Gallery, supported by the Wellcome Trust and Arts Council England. The outputs were disseminated through exhibitions at Middlesbrough (October 2016-January 2017), Wolverhampton (October 2018-January 2019), and a screening and panel discussion at Regent Street Cinema, London.
Download project PDF: Jane and Louise Wilson - We Put The World Before You (1.8MB)