Erika Servin - Micro Macro Photo Litho
A collaborative project between artist-researcher Erika Servin and biomedical engineer Dr Enrique Escobedo-Cousin using printmaking and semi-conductor micro-fabrication
Micro Macro Photo Litho (2017-18) was the outcome of an exploratory collaboration between artist-researcher Erika Servin and biomedical engineer Dr Enrique Escobedo-Cousin. The work originated with a shared interest in how a single technology, photolithography, is used in both fine art printmaking and semi-conductor micro-fabrication. Servin and Escobedo-Cousin collaboratively developed knowledge and techniques in both fields to build on their prior expertise and to extend Servin's work on subcultural identities.
Print series 1: comprised a series of 'macro' prints depicting medical electrodes used to study human skeletal muscle. These were produced by Servin using fine art lithographic print processes. Designed for public exhibition, the large-scale prints focussed upon innovations in nanotechnology developed at Newcastle University, making visible the devices and processes that normally go unseen, and enabling new audiences for Escobedo-Cousin's work.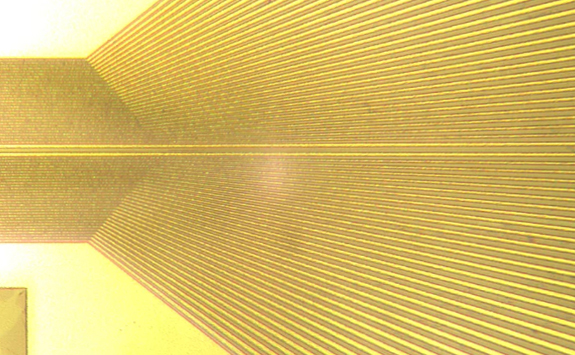 Print series 2: consisted of small-scale 'micro' prints, made by Escobedo-Cousin using the equipment depicted in the macro prints. These could only be viewed by being mounted on glass slides and viewed through the microscope. This theme of making visible the invisible was also conveyed in the subject matter, original images by Servin, depicting Mexican citizens from minority groups and subcultures.
The nano-scale lithographic prints demanded new modes of viewing, in turn fostering a different relationship between the viewer, the prints and the subject matter, and encouraging audiences to rethink colonial depictions of ethnic groups in Mexico.
The project was funded by Newcastle University's Institute for Creative Arts Practice.
Download project PDF: Erika Servin - Micro Macro Photo Litho (1.3MB)