Christopher Jones – Re-arranging the Dust
A project that navigates interconnected aspects of drawing and assemblage practices
Material discarded in the production, documentation, transportation and storage of earlier temporary, site-specific artworks provided raw material to develop new forms of support, auxiliary support and ground as departure points for new drawings, assemblages and collaborative works.
The project navigates distinct, interconnected aspects of drawing and assemblage practices:
Can repurposing redundant studio residue provide distinctive approaches when developing drawings and assemblages?
Can transformation of discarded remnants of artistic production provide new approaches to the material form and role of supports, auxiliary supports and grounds?
Can applying traditional gesso techniques assist the transformation of extraneous studio residue into small-scale objects of presence?
The objective is to establish an original practice-focused discourse bridging debates on contemporary drawing and assemblage practices, materiality and the creative process. Further, it places traditional gesso techniques, dating from the Middle Ages, into a contemporary context of making increasingly informed by issues of sustainability.
It progresses Jones' interest in assemblage methodology (Trace-Retrace, 2007), the hand-sized and understated (The Hour & the Age, 2011) and questions his relationship to site-specificity (Unmonumental, 2013). It contributes new forms to the re-emergent field of assemblage and found material practice (Tuttle, Black, De la Cruz) and material legacy (Landy's Break Down & Art Bin). It speaks to the legacy of cubist/dada assemblage, Arte Provera, Mono-Ha everyday materiality, and painting that explores surface and support (Ryman).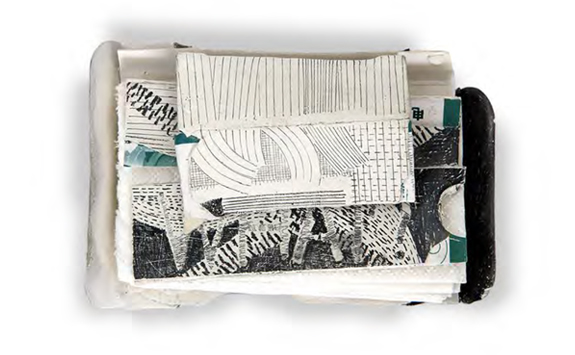 Selected works have been presented publicly in: 'Foreign Encounter', FOE, Munich, 2015; 'paper, table wall and after', Gallery North, Newcastle/National Taiwan University of Arts, Taipei, 2014/5; 'Beyond Words', Long Gallery, Newcastle, 2018 (Curated by Jones with publication, ISBN 978-1-5272-2087, co-authored with Hansen (Newcastle)); 'Folding Islands, Drawing Boundaries', Arts University Bournemouth at British Pavilion, Venice Architecture Biennale, 2018. Works shortlisted and exhibited at Wells Art Contemporary Awards 2018 and Trinity Buoy Wharf Drawing Prizes 2018 and 2020.
Download project PDF: Christopher Jones – Re-arranging the Dust (4.1MB)