Katie Cuddon - Shame, Listener and other work
A body of sculptural artworks that explore the relationship between how the sculptures, and how spoken words, enter the world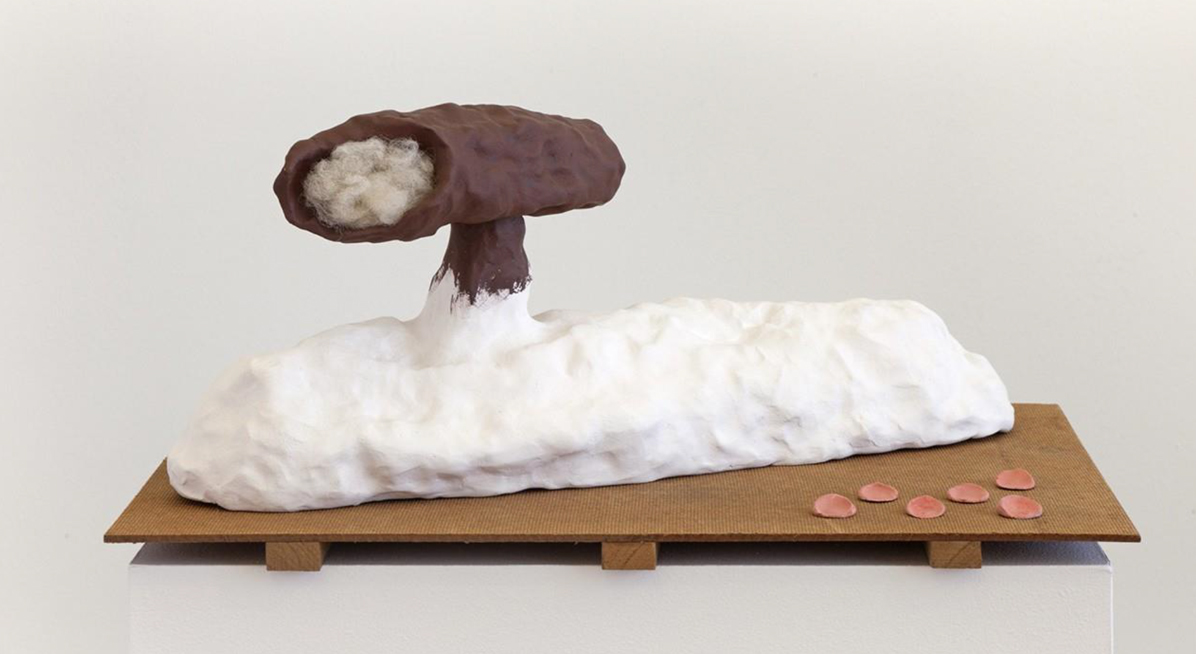 Exhibition, Listener and Shame form part of a body of artworks made by Cuddon between 2014 and 2016. Six exemplars are presented here from an overall output of some 30 sculptures. All are explorations in clay, sometimes in combination with other materials. The work has been exhibited in duo and group exhibitions, with progressive reworking of the sculpture changing the way it is formulated and presented in subsequent iterations. The research has been featured in publications, with examples acquired for a national collection, which has served as a vehicle for further dissemination, enabling researchers and a wider public to access and critique the work.
Cuddon understands her studio-based research as an extended process of exploring possible ways to embody what challenges representation. She intuits and intimates the sculpture before she makes it, then manipulates clay using distinctive hand-building processes which she equates to 'chewing' or 'masticating'. This terminology establishes a relationship between how the sculptures, and how spoken words, enter the world. The paradox of representing with words the artworks that replace those words is explored further through the careful framing of titles. These provide possible entry points for the spectator, although the artist is careful not to 'translate' the sculpture within the title.
Two of the sculptures presented here, Penumbra and Exhibition had the additional dimension of being developed through a dialogic process with painter Celia Hempton. For their duo show, 'Pontoon Lip' at Cell Projects, London (16th May – 29th June 2014), works were developed as the artists conducted a virtual 'dialogue', each creating their works alone but responding to suggestions made by the other. Cuddon lives and works in Newcastle, Hempton in London, and until the works were installed, neither physically encountered the work of the other. During the two-week installation of the work in the gallery space, the works were 'completed', with each artist adding further material: paint, drapes, found materials, bringing the dialogue into physical space and real time. Cuddon subsequently reworked the sculptures, combining them with non-ceramic elements and showing them in the group show 'Sticky Intimacy: Katie Cuddon, Nicolas Pope and Emma Hart' at Chapter Gallery, Cardiff (7th July – 25th September 2016). Here, curators George Vasey and Hannah Firth set the work of two generations of artists, all known for working intimately with clay, in relationship to each other.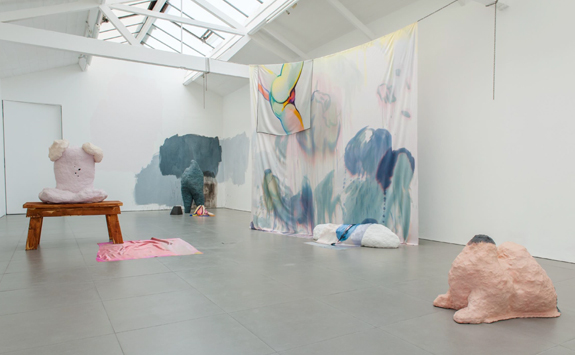 Four sculptures (Exhibition, 2014; Shame, 2014; Listener 2014, Untitled, 2016) were purchased for the Arts Council Collection in 2019, with Shame shown as part of the exhibition 'Tell Me the Story of All These Things' at Firstsite, Colchester (28th March – 28th June 2020). Two works (Shame, 2014 and Untitled, 2016) were chosen to represent Cuddon's profile pages in 'Vitamin C', one of a noted series of Phaidon publications surveying contemporary art. This edition focusses on the use of clay by contemporary artists, and it is within this field that Cuddon's work makes its most distinctive contribution.
Download project PDF: Katie Cuddon - Shame, Listener and other work (1.3MB)