Andrew Burton - Vessels and Monuments
A body of ceramic work comprising installations and sculptures made, and remade, from a single stock of miniature hand-made bricks
Vessels and Monuments is a body of ceramic work (2014-19) comprising installations and sculptures made, and remade, from a single stock of miniature hand-made bricks. These have been repeatedly salvaged by the artist from his earlier demolished works, exhibited in diverse historical and cultural contexts. The research presented here builds on this earlier work through its explorations with 'monumental' scale, its introduction of new forms, and the performative dimension of the project.
The research explores themes of construction and destruction, transposition, ruin, regeneration, utility, fragmentation and futility using the brick as a denominator. Burton uses the basic forms of a vessel and a monument to explore artistic process and the context of sited artworks. Two interweaving strands of the research embody and explore clay as a material that 'contains', and that 'builds'. The research also emphasises the quality and significance of the hand-made object, and the process of making by hand.
Vessels was first commissioned for the exhibition 'Unravelling Uppark' (2014), where selected artists responded to the history of the National Trust property Uppark in Sussex. Unmaking and remaking Vessels for subsequent exhibitions, Burton explored how small changes in the nature of the sculpture could adapt it to speak to a new context.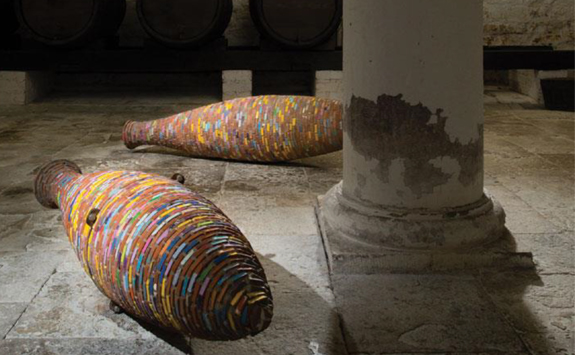 Monuments, a parallel and at times interweaving strand to the research made use of the same miniature bricks, constructed into an 'opposing' form. Where Vessels emphasised a horizontal axis, and were containers (for ideas, for goods or for voids), Monuments were vertical, closed, 'un-architectural', solid forms.
Exhibited first in 'Monument: Aftermath of War and Conflict' (Sainsbury Centre for the Visual Arts, University of East Anglia, 2014), Burton's monumental work Things Fall Apart explored the artwork as a signifier for what remains and sustains beyond failure and collapse – in this context, the devastation brought about by war. Things Fall Apart was later re-made for the Gyeonggi International Ceramics Biennale (CICB) in South Korea in 2015. Here, the project was expanded to involve the audience and gallery staff as witnesses and participants within the performative nature of building.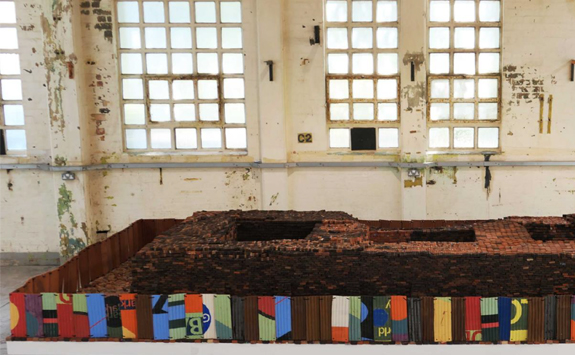 This work was awarded Gold Prize by a jury of international curators who noted how the prizewinning works had, by dismantling boundaries between craft, sculpture, installation and performance, helped to establish a new direction in ceramic practice.
Download project PDF: Andrew Burton - Vessels and Monuments (2MB)