Tyne Valley
Picturesque villages provide an alternative to city life.
It's no surprise that a host of Northumberland towns are regularly featured in the national press when it comes to naming the best places to live in the UK.

One such town that is often featured in these lists is Hexham in West Northumberland. Hexham has been the choice of The Guardian, The Sunday Times and Country Life to name a few.

Located within the beautiful Tyne Valley, Hexham lies approximately 22 miles west of Newcastle. It's commutable to Newcastle city centre in under 30 mins via the A69 dual carriageway. To be able to live in such a beautiful location and make a quick 22-mile commute to the centre of a major UK city is as refreshing as it is rare. The Tyne Valley also has its own rail network, which provides regular services to Corbridge, Wylam, Stocksfield and Hexham.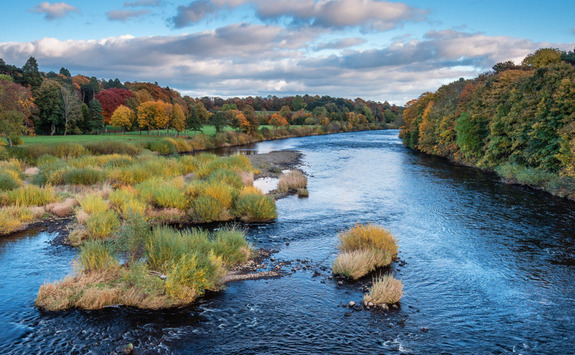 More about Tyne Valley
Although it's a historic market town with a beautiful 12th-century abbey and an excellent farmers market, Hexham boasts a great range of amenities including a cinema and leisure centre. With a Waitrose, Tesco, Aldi and M&S, the town has a fantastic range of food shopping options and a choice of pubs and restaurants to match.

Such amenities help support many surrounding villages and hamlets within the Tyne Valley. With an excellent network of schools, the highly regarded Queen Elizabeth High School in Hexham is the destination for most pupils. But the proximity to Newcastle does open up numerous other options. Together with easy access to landmarks including Northumberland National Park, Hadrian's Wall and the Lake District, it's difficult to imagine a better place to raise a family in the UK today.
Matfen Hall Hotel and nearby towns
Matfen Hall Hotel boasts its own 27-hole golf course, luxury spa and gym, as well as fine dining restaurants. It's only six miles from the village of Corbridge, with a regular bus service. You can explore its fabulous pubs and shops, as well as the very popular Brocksbushes Farm shop and café.

You also have the lovely Prudhoe, which is about 11 miles west of the city of Newcastle and just South of the River Tyne. The town is on a steep hill in the Tyne Valley and nearby to Newcastle commuter towns including:
Ovingham
Ovington
Crawcrook
Hedley on the Hill
Mickley