Dyson
Our work with Dyson is driving innovation in our homes and powering a more sustainable future.
From vacuum cleaners to hairdryers, Dyson is synonymous with innovation in household appliances.
For over 16 years we've been working directly with Dyson, driving innovation in machine design, power electronics and control theory. Our partnership has helped advance a range of Dyson household products.
Now we're going faster and further together – looking to the future of efficient power systems that are not just world-leading, but world-improving.
How we work together
Born from industry-need, our research focuses on:
domestic power systems
power electronics
electromagnetics
heat transfer and fluid flow
integrated drive research and design
coupled electromagnetics, mechanics and thermals of motor design
advanced control of motors and actuators
More than 20 engineers have been recruited from Newcastle's undergraduate and postgraduate courses, demonstrating the close alignment of our University's teaching content, quality, and tools with Dyson's research needs and practices.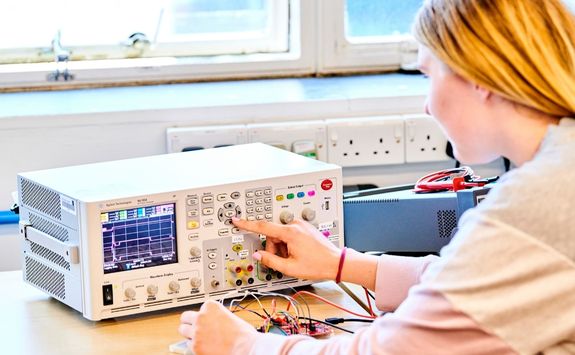 A shared vision
Our shared vision is for Dyson's electrical consumer goods to be world leaders in functionality and sustainability.
Products will be smaller and consume less energy, setting new industry standards in:
environmentally sound manufacturing processes
reduced scrap
recyclability
increased product lifetimes, reducing material and energy usage
Working at the forefront of how electrical consumer products are designed and manufactured, we will drive change, applying cutting-edge design philosophies to an even wider range of products and systems.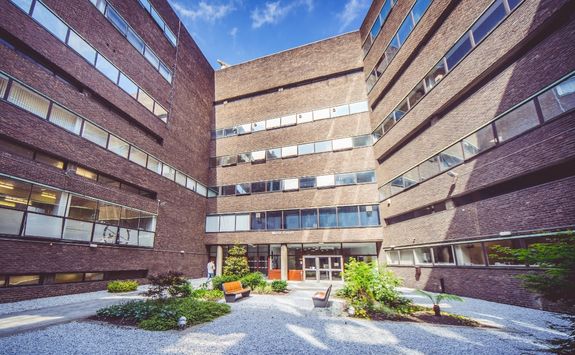 Dyson Future Power Systems Lab
With funding from the EPSRC Prosperity Partnership programme, we are creating a cross-disciplinary team of engineers to develop new designs, prototypes and products that are:
substantially lighter
more efficient
more reliable
more recyclable
Our Newcastle research office, established in 2006 under the direction of Dyson's Research, Design and Development (RDD) arm, is expanding.
Additional Dyson and University research staff and an outstanding early career fellow in motor drives, have taken over new office and lab space equipped with high specification equipment.
This has created an expert team in electromagnetics, power electronics and thermal research. Bolstered by 10 sponsored PhD placements from the Sustainable Electric Propulsion CDT our vision is to apply a multi-physics approach to solving the future challenge in power systems.
How it all began
Our collaboration in the fields of power electronics, machines and drives stretches back nearly two decades.
It began with Andy Clothier, a PhD graduate of Prof Barrie Mecrow, who initiated Dyson's digital motor development programme, progressing to become Dyson's Senior Director of Technical Research.
A unique feature of our partnership has been the embedding of full-time Dyson staff with academic staff and PhD students at Newcastle.
Together we have co-created a significant amount of knowledge and intellectual property in magnetics, machine design, power electronics design and control theory.
Why does Dyson have a lab at Newcastle University?
We are one of the UK's leading research universities in the field of electrical power conversion.
Our Electrical Power Research Group is world-leading and the largest academic research group of its kind in the UK. Its expertise in power system design and control for high power density electric drives with high efficiencies and low cost, complements our partnership with Dyson.
The research group's specialisms span:
photovoltaic control
automotive and aerospace propulsion
smart grid design and management
electrical propulsion
electrical consumer products
Newcastle's world-class teaching and course content linked to real-world applications also align with Dyson's research needs and practices. This has contributed to strong recruitment links between the partners – with over 20 engineers of Dysons motors Research Design and Development (RDD) team having studied at Newcastle, including 3 directors.
A founding member of the Faraday Institution, the UK's flagship battery research programme, we also spearhead the Advanced Propulsion Centre's (APC) network spoke for Electric Machines.
We're the lead partner in Driving the Electric Revolution Industrialisation Centres (DER-IC), a £28.5m government investment into developing the UK's clean and resilient supply chains in power electronics, machines and drives (PEMD).
As a leading member of the Future Electrical Machines Manufacturing Hub's (FEMM) group of universities researching future materials and manufacturing methods for electrical machines, the Electrical Power Research Group is well placed to complement Dyson's aims in this field.
Dyson
Dr Andy Clothier
Andy Clothier is Dyson's Senior Director of Technical Research and has been at the heart of the development of Dyson's products.
Andy completed his degree in Electrical and Electronic Engineering at Newcastle University in 1992 and a PhD in novel electrical machines, power converter topologies, motor control and simulation techniques.
He is also a chartered member of the IET. Having broadened his industrial experience working for International Rectifier customising power electronic modules, he moved to Dyson in 1999 to work on the first Dyson-designed high speed (100,000rpm) compressor motor.
Successive new generations and expansion into new product areas has meant that Dyson motors have ultimately played a significant part in the 10x increase in Dyson revenue and profits. Andy is a strong advocate of leading multidisciplinary teams to create true system designs with high levels of integration (not just bolting blocks together), simulation lead design techniques, and development of new manufacturing techniques.
Dr Tuncay Celik
As Director of Dyson's Motors and Power Systems Research, Tuncay Celik leads a multi-disciplinary team focusing on novel high-performance, high-speed brushless motors and their control algorithms as well as the design and integration of power systems into complex products.
A graduate of Istanbul Technical University and Newcastle University, he is the named inventor of more than 20 innovations, successfully delivering two generations of high-speed Dyson digital motors.
Dr Chris Bateman
A graduate of Newcastle University, Chris completed an Engineering Doctorate sponsored by Dyson, at Newcastle in 2010. He has since progressed through running the first iteration of the Newcastle research office to become Director of Electronic System Research at Dyson's headquarters in Malmesbury. He oversees a team of 60 engineers delivering all aspects of power system design for battery and mains connected products.
Dr Daniel Smith
Dr Daniel Smith completed his Engineering Doctorate at Newcastle examining High Speed and High Power (HSHP) motors in the MW range for aerospace and offshore oil and gas applications, after completing a MEng in Engineering, Economics and Management from Oxford University.
As a Principal Motor Drives Engineer his experience lies in managing the coupled mechanical stress, electromagnetic loss and thermal effects in high speed, power dense machines.
This Multiphysics expertise has translated well to Dyson motor design where motors may be smaller, but have the same challenges due to their extreme speeds and high power density. He now manages the day-to-day running of the Newcastle research office while being involved in leading the various research projects.
Dr Heesoo Kim
Dr Heesoo Kim completed his Doctorate at Lappeenranta-Lahti University of Technology LUT in Finland examining electromechanical interactions on rotordynamics of electric machines. His experience lies in the rotordynamic analysis (specifically including electromagnetic effects) / experimental testing, bearing design, and mechanical stress analysis for the design of high speed rotating machines.
Dr Mingfei Wu
Dr Mingfei Wu completed his PhD at the University of Sydney on power electronics and its control. After that, he has been working in power electronics and its application in both academia and industry. His experience includes power electronics converter design with the power range from 50W to 200kW using power MOSFET, IGBT, SiC MOSFET and GaN, and associated analogue/digital controller design. He is now a Senior Power Electronics Engineer in Newcastle research office.
Newcastle University
Academic Staff
Prof Barrie Mecrow
Professor of Electric Power and one of Dyson's key academic partners, Professor Barrie Mecrow was head of Newcastle's School of Electrical and Electronic Engineering from 2012-2017.
A Fellow of the Royal Academy of Engineering, his research focuses on reluctance and permanent magnet machines and drives for consumer products, aerospace and automotive applications. He has a long history of industrial engagement, has published over 200 peer-reviewed technical articles in highly relevant areas and won international awards for his work.
Dr Glynn Atkinson
Reader in Electrical Machines, Glynn Atkinson is Head of the Electrical Power Research Group and faculty Associate Dean for Postgraduate Research.
Principal investigator for the EPSRC Future Electrical Machines Manufacturing Hub, launched to increase electrification in UK manufacturing, he is also the PI for the Höganäs Research Centre at Newcastle, researching the use of soft magnetic composites in electrical machines.
Dr Matthew Armstrong
Matthew Armstrong is a Senior Lecturer in Control of Electrical Power and academic member of the Electrical Power Research Group. His research interests include real-time digital control of power electronic converters and electrical drive systems, battery management systems, parameter estimation and adaptive control of low-cost power electronic systems.
Research Fellow
Dr Xu Deng (Daisy)
Dr Xu Deng received the B.Eng. and M.Eng. degrees in Electrical Engineering from Nanjing University of Aeronautics and Astronautics, Nanjing, China, in 2010 and 2013, respectively. She received a PhD degree in 'A Drive System for Six-Phase Switched Reluctance Motors' from Newcastle University in 2017.
She joined Newcastle University as a Research Associate in 2017 and became a Senior Research Associate in 2020. She is currently a Newcastle University Academic Track (NUAcT) Fellow in Electrical Power of Electrical Power Research Group in the School of Engineering.
Her main research areas are Integrated Motor Drives (IMDs) and advanced control techniques for electric motor drives and high frequency power electronics.
Research Associates
Dr Muhammad Ikhlaq
Dr Muhammad Ikhlaq received his BE in Mechanical Engineering at NED University, Pakistan; MSc at Özyeğin University Turkey; and PhD at Edith Cowan University, Australia.
His area of research is experimental/computational Thermofluids. In his PhD, he worked on the flow and heat transfer characteristics of synthetic and swirling jets with reference to the cooling of electronic devices.
Currently, he is a Research Associate at Newcastle University in Electrical Machines and working on different cooling methods for electrical machines having previously worked as a Research/Teaching Assistant at both his previous institutions and previous as an Assistant Manager with the Pakistan Space and Upper Atmospheric Research centre.
Dr Tabish Nazir Mir
Dr Tabish Nazir Mir graduated from Indian Institute of Technology (IIT) Delhi with a PhD in power electronics and electric drives. Her research experience includes design, modulation and control of power converters, matrix converter fed motor drives, sensor-less control of AC motors, power electronics in railway applications and power quality.
She is currently a postdoctoral research associate at the Newcastle research office, working on high frequency power electronics for motor drive applications.
Dr Sana Ullah
Sana Ullah received the B.Sc. degree in 2008 from UET Peshawar, Pakistan. He received the MSc degree in electrical power, in 2011, and the Ph.D. degree, in 2016, from the Newcastle University.
His research interests include the design and analysis of rotary and linear permanent magnets machines and switched reluctance machines for automotive and aerospace applications.
Doctorate students
Sumaira Ahmed
Sumaira Ahmed completed her MEng at Newcastle University, and is now working towards a PhD in designing novel electromagnetic systems to improve the Dyson product performance. The research is primarily based on looking at motor and actuator designs, to deliver smooth operation with a high power density and efficiency, which will enable Dyson to deliver future class leading products with a reduced environmental footprint.
Adrián Artacho López
Adrián Artacho López is currently working towards a PhD in High Efficiency Traction Motor in Newcastle University in collaboration with Dyson. He's previously worked as an engineer in Dyson, Hewlett-Packard and CITCEA. His experience lies in the design of electric machines, electromagnetic loss and torque ripple reduction and power dense machines. He obtained his MEng in Industrial Engineering in Barcelona School of Industrial Engineering (ETSEIB).
David Giles
David Giles completed his undergraduate degree in aeronautical engineering at Durham University before moving to Aberdeen to work as a picture framer. Returning to university to complete an MSc in Aeronautical Engineering, David then started his own business designing electromechanical props for collectors. After gaining valuable experience and learning to manage his own projects he sought out a greater challenge as a PhD student. David enjoys all things engineering and creating new designs, and found a home at Dyson in the hopes of creating more efficient and sustainable motors for the future. David is currently working on research to enable the next generation of Dysons ultra-high speed motors.
Doug Jackson
Doug Jackson came to Newcastle to complete an integrated Master's degree in Marine Technology with Marine Engineering at Newcastle University. Throughout his time as an undergraduate, he gained invaluable experience in a wide range of engineering disciplines relevant to the marine sector, developing a particular interest in electrical propulsion alongside system modelling and control. Finding a new home at Dyson working towards his PhD, Doug hopes to dedicate his research and future career to the furtherance of green technologies pushing the world towards a fully sustainable future.
Erfan Lessan
Erfan Lessan joined Newcastle University as an undergraduate student in 2015, later pursuing an MSc degree in Electrical Power Engineering. After graduating he was sponsored by Dyson to complete a PhD in the field of novel electric drives research. His research focuses on finding feasible solutions to the optimisation of low power and low-cost electric drive systems. His experience and knowledge include control systems design and modelling, drive system integration and performance validation.
Toby Middlebrook
Toby Middlebrook came to Newcastle University to attain his Masters in Physics, before starting his PhD as part of the 'Sustainable Electric Propulsion' CDT. His research focus is in investigating the fundamental mechanisms required to deliver high power density, efficient power conversion systems. To fully optimise these systems, designs across electrical, magnetic, mechanical and thermal domains are to be researched and careful management of energy flows, loss densities and heat build-up will be required.
Nail Tosun
Nail has recently joined the lab as a CDT student after completing a masters in Electrical and Electronic Engineering from Middle East Technical University, Ankara. Nail's background and interests lie in electromagnetic modelling and he has previously researched highly dynamic magnetic effects in electromagnetic launchers.