Learning Partnerships
Connecting with students during their studies brings great benefits to your business. From reducing your recruitment costs to exploring your challenges from a new perspective, we can help.
Working with our students during their studies offers a wide range of benefits to your business. You can work with them on campus or on your own sites.
Build relationships that support your recruitment needs
Positive exposure and enhanced reputation
Provide employee development and volunteering opportunities
Showcase new products and services to your customers of the future
Influence the knowledge, skills and behaviours of the future workforce
Open the door to other knowledge exchange opportunities with our University
Make new connections with other businesses working with our students
You might be surprised by the variety of ways you can connect with students. Some of them might feel a bit daunting. Don't worry. We'll work with you to explore what you want to achieve and outline the ways we think we can help you.
Partnership to help our students
Working with and learning from businesses informs and inspires our students. Activities can be part of degree programmes or extra-curricular - both enrich the student experience. They can drive student ambition, build confidence and launch careers.
Examples of how you can work with students include:
Share your experience - support students' career choices by offering insight and reflections
Support events - several of our degree programmes run large, industry-specific events each year
Present case studies - bring real-world context to study modules by presenting projects
Host site visits - help students to understand different professional environments
Set student challenges - ask students to help you overcome your business challenges
And more
Offshore wind x learning partnerships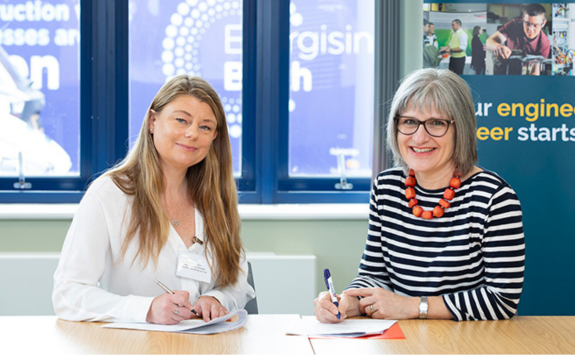 Newcastle University and RWE's Sofia have signed a memorandum of understanding (MOU) to support the growth of a skilled offshore wind workforce, support the sector's expansion and drive innovation.
What sort of activities make a learning partnership?

The different ways that you can engage with students range from brief, initial contact points through to highly immersive, embedded experiences.
On campus:
Open Days - help us to recruit new students
Company / professional events
Guest lectures
Sector-specific networking fairs
Mock interviews
Skills modules
Industry-linked projects
Off campus:
Site visits - live engineering projects and manufacturing plants
Work shadowing
Short placements within study modules
5-10 week summer experiences
9-12 month placements
Networking Fairs
Networking events raise students' awareness of opportunities in different sectors and industries. For example:
ACCESS – for civil engineering and construction
CIRCUIT – for electrical, electronic, computing and related fields such as satellite technology, communications and electrification
OCEANS – for engineering and other careers in the offshore and maritime sectors
GENIE – for Geospatial and Surveying sector careers
The Newcastle University Business School also offers a wide range of opportunities to connect with students.