Driving a cleaner,
greener future
The North East is fast becoming the epicentre of the UK's drive to clean electrification.
Opportunity
A unique community of research, manufacturing, training and innovation has been created and is growing in the North East. Building on strong foundations, we want to coordinate activity across this high-growth, high-value economic opportunity.
A coordinated regional approach presents a range of R&D, infrastructure and commercial investment opportunities, including:
pioneering an integrated energy future
delivering new products to market
Two projects that we are particularly interested in developing are: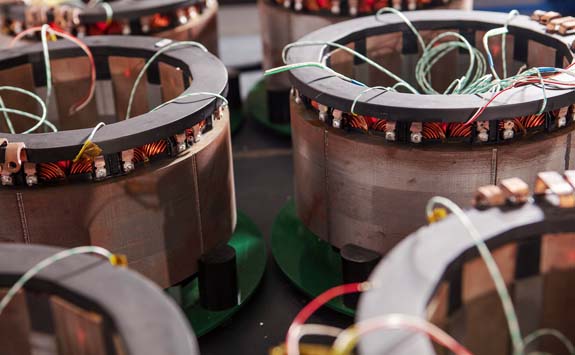 Why Newcastle and the North East?
The people and businesses of the North East love to innovate and collaborate. We're proud of our history, leading industrial and manufacturing advancement. Today our region is primed to lead the green revolution.
Within a 15-mile radius of our University you'll find:
the UK's first Gigafactories
ports and the Catapult at the heart of the offshore wind industry
innovative SMEs delivering new products and services such as Advanced Electric Machines and Connected Energy
at-scale living laboratories and demonstrators including:

energy systems
research farms
urban observatory
process and manufacturing test centres
Who's involved?
We are working with SMEs and corporates, as well as the public and the private sectors including:
Siemens
Nissan
Northern Gas Networks
Northern Powergrid
Northumbrian Water Group
Port of Tyne
Port of Blyth
Offshore Renewable Energy Catapult
CPI
North East Battery Alliance
Faraday Institution
Advanced Electric Machines
Turntide Technologies
Driving the Electric Revolution (Innovate UK)
Northumbria University
North East Automotive Alliance
Institute of Electrification and Sustainable Advanced Manufacturing
Where will this happen?
Innovation is taking place throughout our region. Key sites include:
Northern Gas Network's Low Thornley site
Blyth and southeast Northumberland
Newcastle University campus and farms
Sunderland and the Advanced Manufacturing Park
Driving the Electric Revolution Industrialisation Centre North East at Gateshead College Skills Academy for Sustainable Manufacturing And Innovation
Other investment opportunities