Public Engagement
We want to communicate our research to the public. Since October 2014, artist Derek Hill has been working with our research staff. The project will help us engage with people of all ages.
Antibiotics and antibiotic resistance are high-profile contemporary issues.
The project, titled Illuminating Bugs in Glass: A fusion of Science and Art, explores Derek's experience of collaborating with us on the science of bacterial cell biology. It explores Derek's interpretation of the secret world of microbes and their relationship to human civilisation.
Our partner for this project is the Centre for Life. The Centre will host the launch of the project and the final exhibition, as well as a series of workshops run by Derek and CBCB staff. The exhibition will include:
3D multimedia glass, light and sound installation
time-lapse film sequences of cell growth and division, microbial behaviour and interaction
paintings/drawings and photographs by the artist and scientists in the Centre
live scientific experiments and data collection
Work will represent the advanced methods used in our microscopic research - including the skills of sound lighting and film specialists - and what we've learned from this about bacterial structure and behaviour.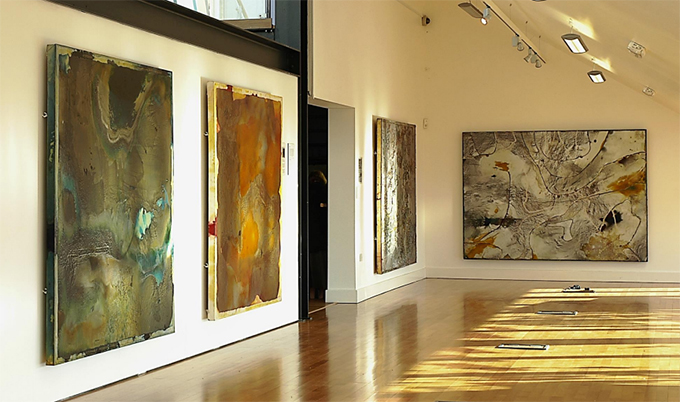 A work in progress
The main phase of the project will last for about 24 months.
We'll develop a reproducible method for visualising the interactions between different bacterial species (including antibiotic producers) when grown together.
We'll study their competitive responses through the patterns of their behaviour and colony structure using time-lapse film sequences. The primary activities of the project will include:
monitoring the growth and behaviour of Bacillus subtilis
learning how to "paint" bacteria with fluorescent stains and proteins
collecting, isolating and culturing bacteria for still and time-lapse movie sequences
About Derek Hill
Derek is a graduate of the Royal College of Art and is the founder of the Art Studio, Sunderland. His artwork lies in both public and private collections, including the Imperial War Museum, London, and he has exhibited his work nationally and internationally.
He has been critically reviewed in journals, and recognised by the Daily Telegraph/ABSA Arts Awards for his pioneering work in the field of Art and Mental Health. He currently practices in Newcastle and Sunderland.
For more information, view Derek's website or view his recent Presentation to CBCB (PDF: 8MB).