Choosing Newcastle
I live about an hour away from Newcastle so was already very familiar with the city and University, and although I wanted to move out, I didn't want to be too far away from home. I looked at other Universities too, and felt Newcastle combined everything I loved about those Universities into one.
After speaking to lecturers and pharmacy students at the open day, I decided Newcastle was definitely the place for me, as they were so approachable and enthusiastic about pharmacy, and I felt like they created exactly the sort of learning environment I wanted to be a part of.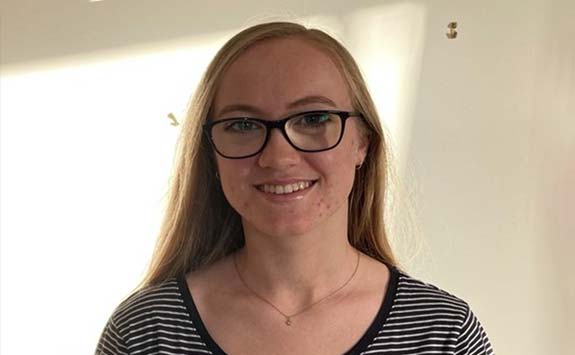 The course
I really like the structure of the course. One of my favourite things is that we start looking at case studies from day 1 as it's really interesting to be able to draw on content we've learnt in other lectures and apply this to a real-life situation, and it's a good way to not only consolidate the science, but also appreciate the importance of it in a pharmacy setting.
The lecturers are good at helping you when there's things you're stuck on, but you do have to proactively ask for help - if you don't ask, they don't know there's a problem! I found this hard at first, but once I started asking, the lecturers were incredibly supportive and more than willing to go over things one-to-one.
The facilities
The laboratories are great, and the laboratory support staff are really helpful, as it can be quite daunting walking into a lab with lots of new equipment and trying to learn all the new techniques. There's also lots of screens all around the room so you can easily see what the demonstrator is showing you.
The Walton (Medical School) Library is open until very late, and I found that particularly useful as I often work best in the evenings, so booking a slot after tea and having a couple hours in a different study space worked really well for me.
The City
One of my favourite things about Newcastle is the amount of greenspace, which I've really appreciated during the lockdowns/restrictions etc. There's also lots of nice places to wander around in the city centre too, like Grainger Market and the Quayside. The city is compact and has all the shops/bars/restaurants/clubs you could want easily in walking distance – but I can't really say much more as my experience of them has been quite limited due to the pandemic!
Student accommodation
I really like living in University accommodation, especially as they're so close to the city centre and the School of Pharmacy. Its nice being around so many people my own age, and although it gets very noisy, most of the time it's a lot of fun and its always useful having people you can talk to and ask about things, as we're all muddling through together.
Spare time
I'm part of the PharmSoc netball team, which I'm loving, and it's allowed me to get to know lots of people on the course, especially students in different years. I've also really enjoyed going on walks with my friends this year, it's been a great way to still spend time with people alongside the restrictions and get to know the city even better.
Anything else you might want to mention?
I think I need to add the obvious disclaimer that this 'pandemic' year at Newcastle University has been very different to the experience in "normal" years. I think the course staff have worked really hard and have done a good job in adapting the course to be delivered online, with pre-recorded lectures and then live online tutorials, case study, and patient experience sessions.
Hopefully I'll be able to take advantage of more of what Newcastle has to offer in the next few years, but even with a pandemic happening, Newcastle has been a great place to live and I'm really happy with my decision to study Pharmacy here.