Piping a way from ancient Greece to modern Northumberland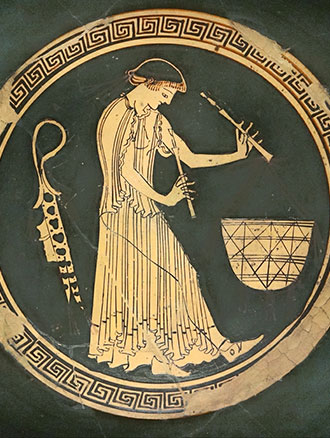 A musical journey from the ancient Mediterranean to present-day Northumberland will be on offer at Newcastle University's King's Hall this week.
The free concert, which takes place on Thursday evening, will provide a rare opportunity to listen to instruments from ancient civilisations alongside a selection of modern British pipes.
Among the featured instruments are replicas of the aulos, or Greek double-pipes, and silver pipes from the ancient Mesopotamian city of Ur, as well as modern Northumbrian smallpipes and Highland bagpipes. The performance will also feature the Isturitz pipe - a reconstruction of one of the world's oldest surviving musical instruments, a flute that was made from vulture bone approximately 30,000 years ago.
The music in the programme will be a mix of traditional folk music from Britain and Sweden, new compositions and ancient Greek music drawn from notated scores that have survived for thousands of years.
In recent years, there has been a resurgence in performing music with reconstructions of ancient instruments, helped in part by the availability of new technologies for reproducing complex instruments with greater precision than ever before, and the programme will showcase the latest research in ancient musical instruments and performance.
All of the music will be connected by the common theme of music and the body, as Dr David Creese, from Newcastle University's School of History, Classics and Archaeology, explains: "Of all the musical activities the ancient Greeks practised, piping was always the most heavily overlaid with anxieties about the body. One of their myths tells about how the goddess Athena invented the double-pipes but threw them away immediately, because she had to inflate her cheeks to play them, and this distorted her features and made her look ugly.
"This concert offers a unique opportunity to hear these rare instruments and promises to offer a vivid window into the music of ancient civilisations and their modern-day parallels."
Among the performers will be Gina D'oyley, currently studying folk and traditional music at Newcastle University. She will play the Northumbrian smallpipes and will be joined by:
• Barnaby Brown – Ur silver pipes, Isturitz pipe, triplepipe, Highland bagpipe
• Callum Armstrong – aulos, double-chantered Scottish smallpipe
• Erika Lindgren Liljenstople - fiddle
The concert, 'From Ur to Uppland', is free and open to the general public. It takes place on Thursday 30 July, 6.00 – 7.30pm in the King's Hall, Armstrong Building, Newcastle University. Click here for more information.
Image shows a woman holding the auloi, painted on the inside of a Greek cup.
published on: 29 July 2015