Students digging deep in Somerset
Published on: 3 August 2016
While classmates are relaxing in the sun, a group of Newcastle archaeology students are getting stuck in the mud in Somerset.
Roman coins
Twenty Newcastle University archaeology students are spending the next month excavating the site of a Roman villa at Lufton. Despite the inclement weather on their first day, they have already unearthed Roman coins dated from the 4th century.

The site has not been touched since the 1960s, when a local schoolmaster, Leonard (Polly) Hayward FSA (Fellow of the Society of Antiquaries), carried out early investigative work there. He took his grammar school pupils to the site in his Morris Traveller and they helped him excavate this nationally important building.

"Obviously, they didn't fully excavate it and it's not how we do it now, but it was a big thing in these boy's lives," explains Dr James Gerrard, who is leading the current dig along with colleague Andrew Agate. One of those boys – Max Hebditch - went on to become Director of the Museum of London.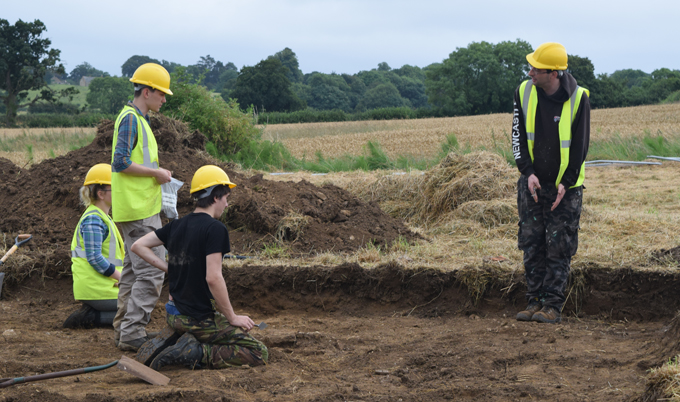 Employing latest scientific techniques
At one end of the villa is a very elaborate mosaic with an octagonal plunge pool bath in the middle, which is out of keeping with the rest of the building. "Whoever built it employed some really dodgy builders," says Dr Gerrard. "You can clearly see the buttresses that were put in later to support the subsiding tower."

Octagonal structures are common in temple buildings built in the West Country in the 3rd and 4th centuries. Octagonal buildings were also used in 5th century Italy as Christian baptisteries.

"For me, the interesting part will be trying to figure how this building was used," says Dr Gerrard, who is based in the University's School of History, Classics and Archaeology. "It's a nice country house that was later subdivided into rooms and had a working iron furnace inserted into one of the mosaics. This change in use probably dates to the early 5th century, when Roman influence in Britain was waning."

The latest activity in the building was likely taking place during the 5th century, a mysterious period in Somerset before the Anglo Saxons and after the Romans. Dr Gerrard and his team will be using the latest scientific techniques to find out what type of metal working was being carried out.

"We hope to be able to find out more about the economy and diet of the inhabitants as well," he adds. "Leonard Hayward collected 106 bones which he thought 'might be ox', digging long before detailed scientific analyses. We hope to find more animal bones, burnt seeds and snail shells which will allow us to use radiocarbon dating that wasn't available in the 1950s and 1960s and to assess the economy and environment of the villa."


Scheduled ancient monument
Lufton Roman villa is a scheduled ancient monument owned by James Pullen - a local farmer. Newcastle University has permission from the Secretary of State for Culture, Media and Sport and Historic England to assess the state of the monument and carry out work there.

Undergraduate and Masters students on the University's work experience scheme are working alongside the South Somerset Archaeological Research Group, a local voluntary archaeological group. You can keep up to date with their progress on the Lufton Roman villa blog.

Dr Gerrard would also be interested to hear from any of Leonard Hayward's pupils who dug at the villa in thre 1950s and 60s.


---
Latest News