Science and Engineering Excellence
Published on: 8 March 2017
Newcastle's rising stars selected to showcase their research in Parliament.
Six of Newcastle University's most talented young researchers in the fields of Science and Engineering have been selected to present their work in Parliament.
PhD students Shuen Lann Yvonne Choo, Maria Pregnolato, Alex Svalova, Laura Wadkin, Sara Cuevas Ocaña and Gemma Roberts have been shortlisted from hundreds of applicants to showcase their work as part of the STEM for Britain competition.
Working across a range of disciplines from mathematics and civil engineering to geosciences and chemistry, the talented young women will present their work to both politicians and a panel of expert judges on Monday 13 March in the House of Commons.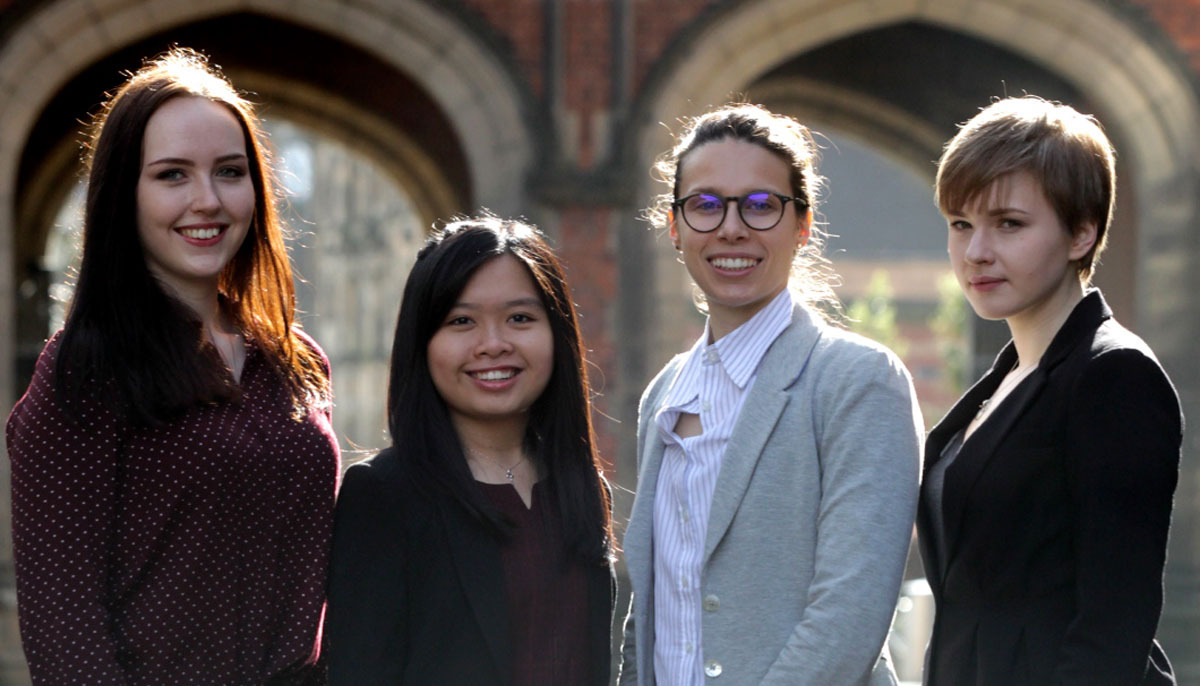 Women in Science and Engineering
Speaking on International Women's Day about their success, the students said they were delighted to have been selected.
Yvonne Choo, 24, a PhD student in the School of Chemistry is presenting her work on cling-film-like membranes for water splitting devices which will be vital for the production of Hydrogen and future energy solutions.
"STEM for BRITAIN is a great opportunity talk about the research that's going on in the UK and particularly here at Newcastle University," she said.
"I was inspired to pursue science after reading a book about Marie Curie so I think the fact that we have five women representing Newcastle on International Women's Day is just fantastic."
Maria Pregnolato, 28, a third year PhD student in Civil Engineering is investigating the impact of flooding on the country's infrastructure.
"I think in the past women have felt that engineering was a male-dominated field and that it was a difficult career to pursue but we are starting to get parity and re-address the balance, particularly here in the UK."
Alex Svalova, 23, a PhD student in Geosciences is investigating petroleum chemistry to better understand how water and oil interact with the ultimate aim of improving the clean-up of oil spills.
She adds: "How fantastic that on International Women's Day we have five female scientists and engineers representing the University at STEM for Britain!"
Laura Wadkin, 23, a PhD student in the School of Mathematics and Statistics is mathematically modelling stem cell colony development.
"STEM for Britain is a great event celebrating the work of early career scientists."
Sara Cuevas Ocaña, 27, a PhD student in the Institute of Cell and Molecular Biosciences is working on the development of a new system for discovering drugs for cystic fibrosis, added:
"I strongly believe that scientists should be able to explain how their research can benefit the wider community. This is an invaluable chance to communicate my research to the public and to MPs, who can influence the course of our society."
Gemma Roberts, 34, a PhD student and Clinical Research Associate in the Institute of Neuroscience is presenting her work on cardiac imaging for dementia diagnosis, which aims to develop a further understanding of the condition.

She said: "I'm really pleased to have been selected for the STEM in Britain event and look forward to discussing my research with government policy makers and other researchers.
"Dementia is under-funded in the UK considering the impact it has on society and this is a great opportunity to raise awareness of new dementia imaging research and its potential role in early diagnosis."
Best Young Researchers
Professor Chris Phillips, Faculty Director of Diversity at Newcastle University, said:
"I'm delighted the excellent work of these early career researchers has been recognised in this way.
"It's important that this talent is nurtured and every opportunity is given to women to develop their careers within academia or elsewhere."
Set up to promote the country's best young researchers in science, engineering, technology and mathematics, Stephen Metcalfe MP, Chairman of the Parliamentary and Scientific Committee, said the annual competition was an important date in the parliamentary calendar.
"STEM for Britain gives MPs an opportunity to speak to a wide range of the country's best young researchers," he explained.
Judged by leading academics, the gold medalist receives £3,000, while silver and bronze receive £2,000 and £1,000 respectively.
The Parliamentary and Scientific Committee runs the event in collaboration with the Royal Academy of Engineering, the Royal Society of Chemistry, the Institute of Physics, the Royal Society of Biology, The Physiological Society and the Council for the Mathematical Sciences, with financial support from the Clay Mathematics Institute, Research Councils UK, Warwick Manufacturing Group, Society of Chemical Industry, Institute of Biomedical Science and the Heilbronn Institute for Mathematical Research.
---
Latest News