Plans announced for major new sculpture on campus
Published on: 13 June 2018
Plans have been revealed for a major new sculpture by celebrated artist Antony Gormley, to be installed in the heart of Newcastle University's campus.
Heart of campus life
The sculpture, titled Clasp, is generously being loaned to the University by the artist and will be located on King's Walk, a busy pedestrian thoroughfare next to the Students' Union building and Northern Stage and will interact with life at the heart of the campus.
Due to be installed later this summer, Clasp is a translation of two bodies holding each other. The 4.5-metre-high cast iron sculpture is part of the artist's 'Blockwork series', in which blocks replace anatomy. The work is made up of 18 individual blocks and uses stacking, cantilever and propping to make a sculpture that juggles the dynamic and the stable.
The new sculpture will be cast as one single element in Spheroidal Graphite iron at the Shakespeare Foundry, Preston. The surface colour of the sculpture will naturally evolve over time as an organic response to environmental conditions.
Antony Gormley said: "Two stacks of blocks find mutual support and together, they make a concentrated, single sculpture that is both body and building."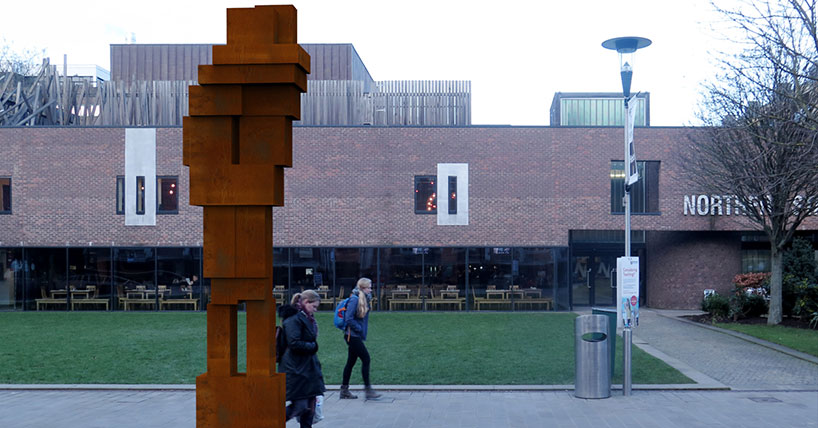 Distinguished artist
Best known in the north of England for the Angel of the North in Gateshead and Another Place at Crosby Beach in Liverpool, Antony Gormley was awarded the Turner Prize in 1994 and the South Bank Prize for Visual Art in 1999. His sculptures are now to be found in museums, in collections, and in permanent sites all over the world.
He was given an honorary doctorate by Newcastle University in 2004, and in 2015 the University's Hatton Gallery held the 'Space Stations' exhibition, showcasing some of his drawings from 2002 – 2014, which reveal how drawing and sculpture have been in continuous dialogue throughout his career.
Professor Eric Cross, Dean of Cultural Affairs, Newcastle University, said: "It is a thrill to have a sculpture by such a distinguished artist as Antony on our campus. By combining the architectural with the organic, his work constantly challenges us to engage with it. It will be an exciting and arresting piece of art that demands attention."
Art on campus
Clasp will be the latest addition to the University's successful Art on Campus programme which aims to showcase art by leading artists, as well as graduates, students and staff from the University, especially its highly-regarded Fine Art department.
Clare Rogers, Director of Estates, said: "This is an important step forward in our aim of creating public art on campus for our students, staff and visitors to enjoy. The location on King's Walk outside the Students Union is a focal point and through-route which will enhance the vibrant campus environment. We are most grateful to Antony."
The sculpture will join existing public artworks at Newcastle University, such as the bronze statue of Dr Martin Luther King Jr, which was unveiled in November 2017, the Grade II-listed 'Spiral Nebula' by noted post-war sculptor Geoffrey Clarke, and 'Generation' – a group of three large sculptural heads, created by Joseph Hiller, a graduate of Newcastle University's Fine Art department, as well as other works distributed around the estate.
---
Latest News