Well-versed – inspiring the next generation of poets
Published on: 2 May 2019
Poets have been heading into the classroom ahead of the first Young People's Poetry Prize at the Newcastle Poetry Festival
A thriving base for poetry
Writers have been working with students to help them develop their writing skills and think about poetry in a new way.
The project, supported by Atom bank, was inspired by the launch of the first Young People's Poetry Prize at this year's Newcastle Poetry Festival.
Among the schools involved was St Cuthbert's Catholic High School, in Newcastle, where poet Jake Morris-Campbell spent a morning with students. The visits were organised by Newcastle University's Centre for the Literary Arts (NCLA), which runs the Newcastle Poetry Festival.
"I really enjoyed working with the pupils from St. Cuthbert's," said Jake. "They were enthusiastic about the tasks I set them and worked well individually and as a group, thinking about and discussing what poetry might mean to them and their communities.
"It's important that children in Newcastle see how great the region is as a thriving base for poetry and I hope they all felt inspired to carry on writing."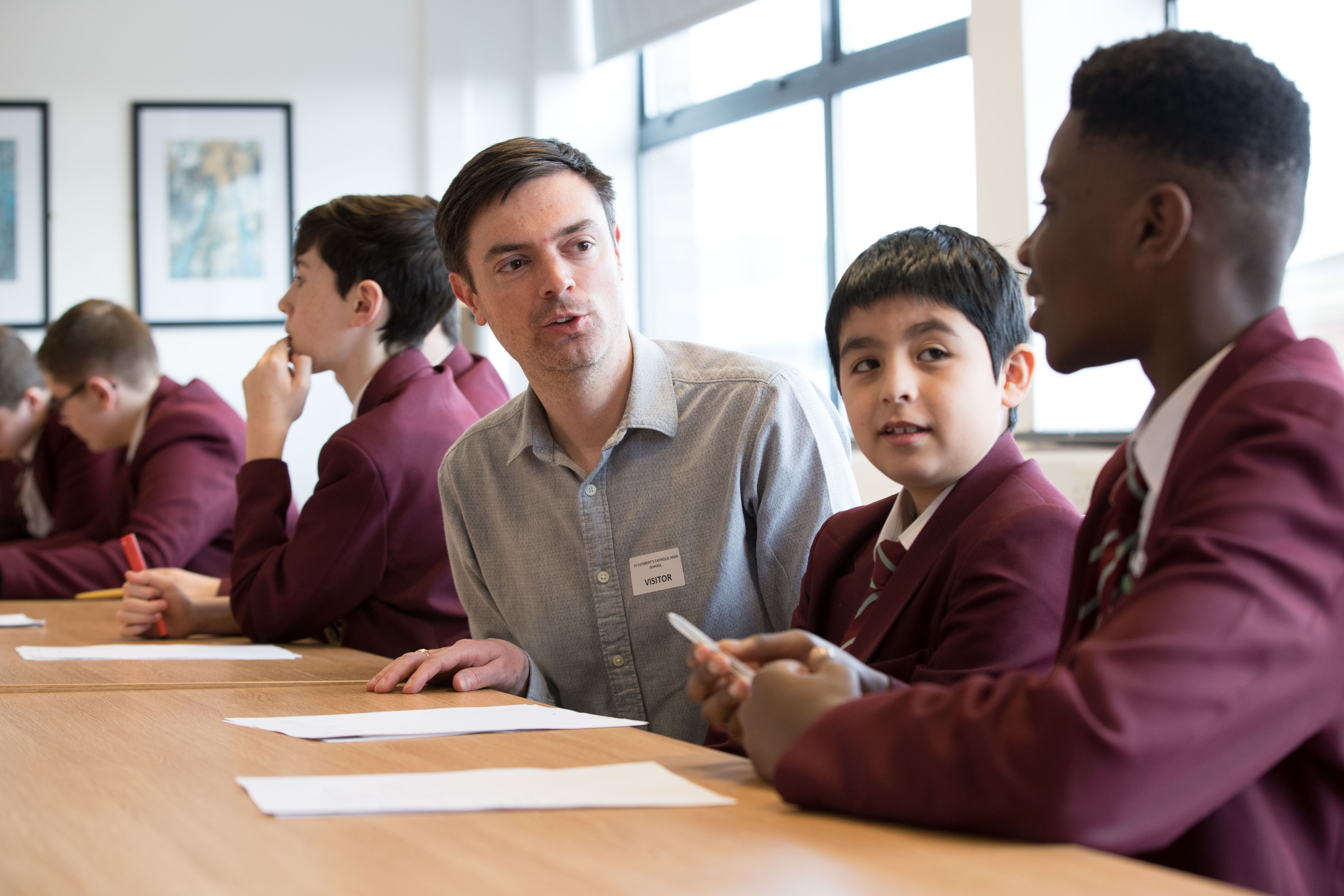 Personal and abstract
Teacher Kelly Evans said: "We had a wonderful morning with Jake at St Cuthbert's. The selection of poetry he chose for discussion was perfect for our students who are proud of their home city and region.
"Our boys particularly enjoyed reading poems about famous places in the North East and this inspired some beautiful poetry centred on their own interpretation of 'home'. It was a liberating experience to capture their thoughts and feelings and they relished the opportunity to throw away the rule book and use language in a very personal and abstract way."
Pupil Matthew Dela Pena, 11, said: "I've really liked learning and exploring a variety of poems and looking at the different ways we can use words."
Other schools and colleges involved included Sir Robert of Newminster, in Washington, and St Thomas More High School, in North Shields, and Newcastle Sixth Form College.
Professor Sinéad Morrissey Director of the Newcastle Poetry Festival, said: "We're delighted to have hosted the workshops in schools this year, courtesy of Atom bank, and to have inaugurated a poetry prize for young people. We're excited to welcome the winners, along with their parents and teachers, to the Festival on Saturday, to showcase the talent of the young amidst the talent of established poets from all over the world."
Supporting local creativity
Neil Costello, Head of Marketing at Atom bank, said: "It's so important that we're nurturing the right skills and talent in the region and we're delighted to contribute to this. At Atom, we're passionate about having a positive impact on the local community and the lives of young people around us so it's great to support local creativity."
The winner of the Young People's Poetry Prize will be announced at Northern Stage on Saturday (4 May) by Phoebe Power, who won the Forward First Collection Prize this year for Shrines of Upper Austria.
The Newcastle Poetry Festival runs until Saturday and features some of the world's best poets, including Terrance Hayes, Mary Ruefle and Ishion Hutchinson.
---
Latest News