Break the bias for International Women's Day
Published on: 2 March 2022
An International Women's Day event will see inspirational women speak on their contributions to breaking the gender bias in Science, Technology, Engineering and Mathematics.
As part of International Women's Day celebrations, Newcastle University's Faculty of Science, Engineering and Technology (SAgE) has invited a series of inspirational women to look back at the University's history, discuss the new challenges they face and look forward into the future.
Taking place online via Zoom on Monday 7 March (11.30am – 1pm), the event brings together Chi Onwurah, Labour MP for Newcastle upon Tyne Central; Professor Stephanie Glendinning, Professor of Civil Engineering and Faculty Pro-Vice-Chancellor (SAgE); Sadia Nujhat, Founder and Trustee, Promoting Women in Science Charity, and Professor Sally Shortall, Duke of Northumberland Chair of Rural Economy.
150 Years of Science, Agriculture and Engineering at Newcastle
This event is also part of the 150 Years of Science, Agriculture and Engineering at Newcastle celebrations taking place across the year.
Professor Stephanie Glendinning said: "The fields of science, computing, engineering and mathematics have historically been male dominated. However, here at Newcastle University we are proud of the many different ways our female colleagues and students are bringing new ideas and perspectives to our teaching and research programmes, helping to break the traditional bias, and encouraging more women into these fantastic and worthwhile areas.
"As a female engineer, I am delighted to have the opportunity to talk at this International Women's Day event. It is an honour to be able to help inspire and encourage our next generation of female scientists, engineers and mathematicians, who will continue the University's commitment to making a positive difference, now and in the future, for people locally and globally."
Chi Onwurah, Labour MP for Newcastle upon Tyne Central, said: "International Women's Day highlights both the contribution of women and the way in which our lives, stories and opportunities have been blighted by bigotry throughout human history. Over a century after it was first celebrated, we should be proud of our achievements but focused on fighting the inequality that still exists. In STEM, women, and particularly women of colour, are significantly under-represented, in universities and in the workforce. This shows how much work there is to be done to breakdown prejudice and the structural barriers that different women face."
This event is open to anyone to attend. To register to attend online, please visit: https://forms.ncl.ac.uk/view.php?id=13695900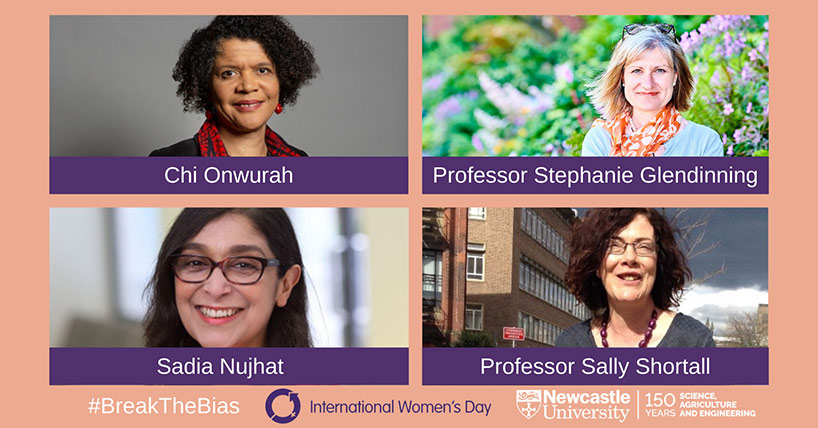 ---
Latest News