Boost for research into life in Palestine
Published on: 17 October 2019
Newcastle University's expertise on issues facing people living in Palestine and the Middle East will be further boosted, following the announcement of new funding and a new research fellowship.
British Academy funding
The funding has come from the British Academy, as part of its Humanities and Social Sciences Tackling the UK's International Challenges programme. It will support an 18 month project led by Dr Mark Griffiths, investigating the effects of Israel's visa restrictions on family, social and political life in Palestine.
Working with colleagues at the Hebrew University, Jerusalem, and the University of Tampere, Finland, the research will look at the pressures faced by those living and working in Palestine and the issues they encounter as part of everyday life.
Dr Griffiths explained: "Palestine does not control its border or any points of entry and exit so anyone moving to or from the country is subject to visa conditions that can restrict their work.
"This research will look at how European and US citizens visiting or living in Palestine try to build a life in the context of short-term visas."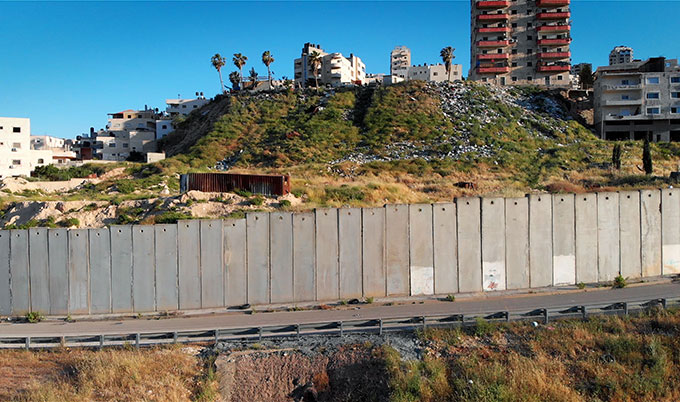 New insight into healthcare challenges
The other research project, which has also been awarded to the School of Geography, Politics and Sociology, is a one year Fellowship with the Independent Social Research Foundation (ISRF).
Awarded to Dr Craig Jones, the Fellowship will allow him to carry out research into access to healthcare in states where medical infrastructure has been destroyed – often intentionally – through war.
The Wounds Without Borders project will explore, in particular, the experiences of people living in Gaza and Iraq and their struggle to receive treatment for conflict-related traumatic injuries.
The political factors that influence healthcare provision in these countries is a much under-researched area but can have a major impact on the treatment options available. For example, if a person needs emergency care, the decision on whether they receive treatment will depend on who they are and the territory in which they were injured.
Dr Jones said: "Because there are so few resources available, those delivering treatment in these countries have to make decisions about who to treat and in what circumstances. As a result, a lot of people die from otherwise preventable injuries. But there are other health implications, too – for example without access to the right drugs or antibiotics infections can take hold, some of them resistant to conventional antibiotics."
In some cases, casualties are able to be treated in-country by medical staff or NGOs such as the International Committee of the Red Cross or Médecins Sans Frontières. But sometimes people will be forced to travel hundreds of miles to other countries such as Lebanon, Jordan or Turkey, to get the medical help they urgently need.
"By working directly with some of those trying to deliver emergency care in these countries, and trying to better understand how they make decisions about who they can treat, I hope this work will help us gain new insight into the impact of the geo-political challenges facing the wounded and those caring for them," Dr Jones added.
---
Latest News