Newcastle University welcomes first exchange students from Ukraine
Published on: 21 February 2023
A group of students from the National University of Water and Environmental Engineering (NUWEE) in Ukraine has arrived at Newcastle University to start a semester-long exchange.
Eight NUWEE students have now arrived in Tyneside and are working with their peers in Newcastle University's schools of Computing and Engineering and Newcastle University Business School to continue their studies.
The exchange is part of the twinning partnership the two universities signed last year to support long-term research and educational collaboration. As part of the Cormack Consultancy/Universities UK twinning programme between UK and Ukrainian academic institutions, and through financial support from the Newcastle University Development Trust, the fully-funded studentships have been provided in support of the new partnership to cover travel, accommodation, tuition and a stipend for living costs.
The partnership has also included a successful English language programme delivered by a group of Newcastle University students for their peers at NUWEE. The programme, which is administered through Newcastle University's Language Resource Centre, has so far been a huge success with 39 NUWEE students taking part in the online programme. This will continue this year with a new cohort of students.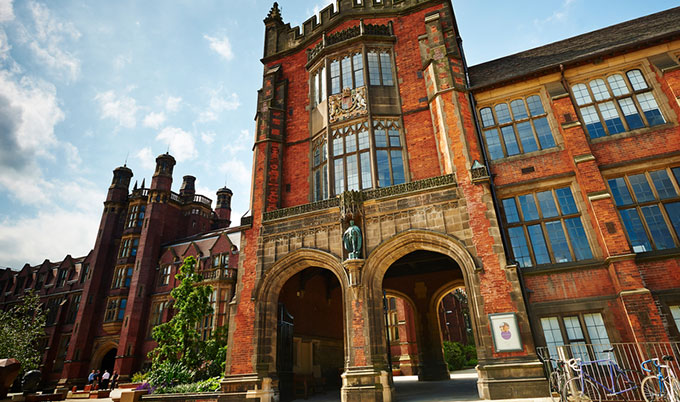 Increased support
The partnership with NUWEE is one of several initiatives that Newcastle University put in place as part of its response to the war in Ukraine, to support colleagues and students who have been impacted.
Over the last year, the University has increased opportunities through expanding its long-standing partnership with the Council for At-Risk Academics (CARA) which helps academics fleeing from discrimination, persecution, suffering and violence in some of the world's most dangerous places. To date, the university has welcomed six academics to Newcastle through the CARA-British Academy Researchers-at-Risk scheme with more likely to follow.
The university has also helped form the 'Community Sanctuary Network', made up of a group of volunteers working with strategic partners King's College London, the University of Leicester, the Open University, Citizens UK and the Ukraine Sponsorship Pathway UK. The university partners have each recruited hosts and volunteers from their communities to offer accommodation and support for people who have been forcibly displaced as a consequence of the Russian Federation's invasion of Ukraine.
The Community Sanctuary Network team at Newcastle is also working with King's College to offer Sanctuary Scholarships (Pathway 2), a new stream of scholarships for students from Ukraine, Russia and Belarus who are displaced and/or at risk of persecution, violence, and conflict.
These scholarships are open to students at Bachelors, Masters, or PhD level, with some scholarships prioritised for STEM subjects, in particular Maths and Physics. Each scholarship will comprise a full tuition fee waiver and a living costs bursary, for a maximum of three years.
Professor Richard Davies, Newcastle University's Pro-Vice-Chancellor Global, said: "One year on from the start of the war in Ukraine, we remain committed to working with our friends and partners to offer all the help we can to those who need it. I am immensely proud that we are supporting the NUWEE community, and I know that there is much that staff and students at both institutions are learning from each other. In the longer term, I hope the skills and friendships that come out of this partnership will play a part in the rebuilding of Ukraine."
NUWEE was established in 1915 and is the largest higher education establishment in Rivne, in western Ukraine. It has research strengths in water, engineering, agriculture, and economics as well as business, computing studies, architecture, and heritage studies.
The long-term partnership with Newcastle University is also supporting NUWEE students and researchers to carry on their work at their home university through providing online access to academic resources including Newcastle's library system.
The two universities are also actively engaging with each other through virtual workshops and events to learn from one another's research strengths and to identify opportunities for collaboration on joint research projects – a number of which have already been submitted for funding.
For details of other ways Newcastle University is supporting students and staff impacted by the war in Ukraine, visit https://www.ncl.ac.uk/who-we-are/war-in-ukraine/
---
Latest News