Spanish, Portuguese and Latin American Studies
Spanish, Portuguese and Latin American studies (SPLAS) is a lively and dynamic section within the School of Modern Languages.
In the School of Modern Languages, we're committed to helping you develop your language and academic skills. We'll guide you as you explore the diverse cultures and societies of Spain, Portugal and Latin America.
Undergraduate studies
Language learning in Spanish and/or Portuguese makes up a significant part of your studies. You'll achieve high proficiency in either or both languages.
Our Programmes
Wide range of optional modules
There's so much more to studying languages at university than just learning a language. Optional modules related to the Iberian Peninsula and Latin America enrich your language learning experience. They include:
history
politics
cultural studies
film studies
anthropology
linguistics
sociolinguistics
literature
Your year abroad
One of the attractions of studying languages at university is the opportunity to spend a year abroad. Immerse yourself in the culture, while developing your language fluency. You can choose to:
study at a university
work as an English language assistant in a school
work as a volunteer teaching assistant in Peru or Argentina
undertake a work placement
The Real Translation Project
In your final year, the Real Translation Project gives you the opportunity to translate diverse documents. You'll practice your translation and language skills in a professional context. Past students have translated:
tourism brochures
human rights reports
captions for art and photo exhibits
subtitled for a documentary
Postgraduate Research
We offer a one-year MLitt research degree that allows you to focus on your language specialism:
We also offer research degrees in Translation Studies and Film Studies
Our MPhil and PhD research programmes allow you to specialise in your chosen language area. You can also specialise in translating and interpreting.
We offer three MPhil and PhD programmes:
Extra curricular activities
There are lots of activities to get involved in in Newcastle to reinforce your language studies.
Our teachers of Portuguese organise engaging and lively activities sponsored by the Instituto Camões.
The School of Modern Languages has a long-established partnership with the Institut Ramón Llull. We take part in activities for the promotion of the Catalan Language. We arrange study trips to Catalan-speaking regions in Spain.
Each academic year we offer a vibrant set of public activities. We've organised:
film screenings
art exhibits
workshops
talks by exciting speakers from the Iberian Peninsula and Latin America
Important cultural institutions in the North-East region offer a wide array of activities related to the Iberian Peninsula and Latin America. Cinemas around Newcastle frequently show films from these regions and hold language cafes afterwards. These include:
Tyneside Cinema
The Star and Shadow
Side Cinema and Gallery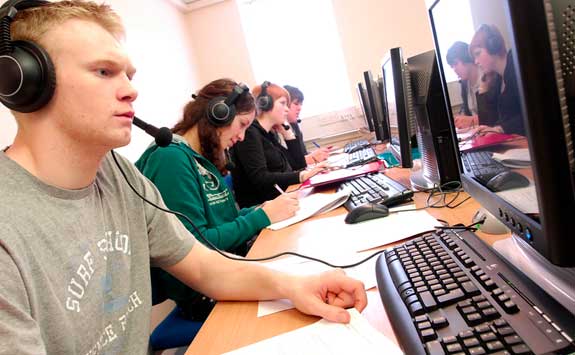 Sage Gateshead and other venues also bring Iberian and Latin American acts to the city.
The annual ¡VAMOS! Festival is a celebration of the vibrant Hispanic and Lusophone community in Newcastle and Gateshead.