Modern Languages, Translation and Interpreting
BA Honours
UCAS code: R9Q9
Full time
4 years
Next start date: September 2020
This degree combines your study of two modern foreign languages with the development of sought-after translation and interpreting skills to prepare you for a career as an engaged, global citizen.
Fees (per year)
UK/EU: £9250
International: £18000
Entry requirements
A Level: ABB
IB: 32 points
UCAS Institution name and code:
Work placement opportunity
Study abroad opportunity
Course overview
This Modern Languages, Translation and Interpreting degree focuses on developing your language skills to near-native fluency as well as equipping you with specialist and in-demand skills such as translating and interpreting.
The third year of your degree will be spent abroad, so you can develop your language skills among native speakers and experience a different culture.
Your knowledge and skills of translation and interpreting also ensure you leave Newcastle University as a sought-after graduate with attributes highly prized by employers.
You'll become a confident multilinguist, ready to embark on your career as a global citizen.
Quality and ranking
5th in the UK – The Guardian University Guide 2020 (Modern Languages)
top 10 in the UK – The Complete University Guide 2020 (French, and Iberian languages)
top 10 in the UK – The Times/Sunday Times Good University Guide 2020 (Iberian languages)
6th in the UK for research power – Research Excellence Framework 2014
top 200 – Arts and Humanities category – Times Higher Education World University Rankings by Subject 2018
Teaching excellence
TEF Gold
A ringing endorsement of Newcastle University's long tradition of excellence in teaching.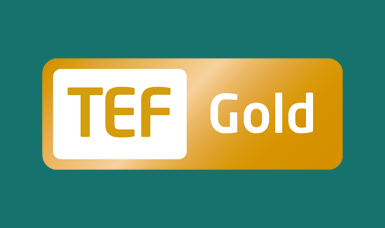 Modules and learning
Modules
The information below is intended to provide an example of what you will study.
Most degrees are divided into stages. Each stage lasts for one academic year, and you'll complete modules totalling 120 credits by the end of each stage.
Our teaching is informed by research. Course content changes periodically to reflect developments in the discipline, the requirements of external bodies and partners, and student feedback.
This degree allows you to study two modern foreign languages and specialise in translation and interpreting.
There are two routes through the degree.
If you have A Level (or equivalent) in two of French, German and Spanish, then you follow pathways in Translation and Interpreting in both languages.
If you have A Level (or equivalent) in one of French, German or Spanish, then you follow a Translation and Interpreting pathway in that language. You also study another language from beginners' level (from Chinese, French, German, Japanese, Portuguese or Spanish).
You also have a selection of optional modules to choose from exploring the culture of your chosen countries.
Stage 2 furthers your understanding of both translation and interpreting practice as well as moving into the advanced study of languages.
You will again have optional modules that explore the cultures and histories of the countries where your chosen languages are spoken.
You will spend Stage 3 working or studying abroad. This year abroad exposes you to the life and cultures of the countries you're studying, further developing your language skills.
In Stage 4 you'll study further translation and interpreting modules. This gives you the opportunity to gain professional skills and an awareness of the issues in translation and interpreting.
Your language modules include advanced writing skills as well as the learning of language for professional and academic purposes.
Optional modules allow you to explore the history and culture of foreign countries.
Teaching and assessment
Teaching methods
The majority of language modules are taught by native speakers. You also work in language laboratories and undertake self-study in our Language Resource Centre.
Assessment methods
You'll be assessed through a combination of:
Assignments – written or fieldwork

Dissertation or research project

Examinations – practical or online

Reflective report/journal
Skills and experience
Research skills
You have the option of writing a dissertation in your final year, which allows you to explore and discuss a topic of interest in great detail, while developing research skills.
Opportunities
Year abroad
This Modern Languages degree includes a compulsory year abroad.
Students studying a European language can:
study at one of our partner universities
undertake a work or voluntary placement
undertake a combination of both (ensuring they do not overlap)
Students who are studying Chinese or Japanese will spend the academic year studying at one of our partner universities in these countries.
You usually divide the year between the countries relating to your chosen languages, although it may be possible to spend the entire year in one country.
Support for year abroad
You will receive lots of help to prepare for your year abroad, including:
briefings covering practicalities like insurance, visas and student safety
support in finding a work placement
a Tandem Learning Scheme, to practise conversation in your foreign language and make in-country contacts, before you travel
a training course for language assistants
There are also events in your second year where you can meet students who have already done their year abroad, Erasmus students from our partner universities in Europe, and Chinese and Japanese exchange students from our host universities in East Asia.
You'll be in contact with our Year Abroad team during your time abroad, and communicate with your personal tutor. You'll also write blog posts, reflecting on your linguistic, personal and professional development.
Facilities and environment
Facilities
As a Modern Languages student, you'll be based at our city-centre campus, in the School of Modern Languages. We've been teaching modern languages in Newcastle for more than 100 years.
You will have access to language laboratories and the award-winning Language Resource Centre, with self-study resources for over 50 languages. You'll also have access to:
specialist language learning software
dictionaries
films
live foreign-language TV channels
Support
You'll have the support of an academic member of staff as a personal tutor throughout your degree to help with academic and personal issues.
Peer mentors will help you in your first year. They are fellow students who can help you settle in and answer any questions you have when starting university.
Your future
Studying for our degree in Modern Languages, Translation and Interpreting will open the door to a wide variety of career paths, while adding the specific skills of translation and interpreting to your portfolio.
You may decide to embark directly upon a career in translation and interpreting, or you could follow in the tracks of some graduates, and find work in areas as diverse as tourism, marketing, management, the civil service, advertising and the media, teaching and banking.
Alternatively, if you want to study translation and interpreting further, our degree is excellent preparation for a postgraduate professional qualification.
The degree aims to provide a firm foundation for a career as a freelance translator or interpreter for agencies and commercial clients in the private or public sectors, and work in international organisations.
Employability at Newcastle
96% of Newcastle University graduates progressed to employment or further study within six months of graduating, with 85.5% in graduate-level employment or further study.
Take a look at the most recent data available for our graduates. See what they have gone on to achieve and be inspired to follow in their footsteps.
Statistics are based on what graduates were doing on a specific date, approximately six months after graduation (Destinations of (undergraduate and postgraduate UK domiciled) Leavers from Higher Education Survey 2016/17).
Make a difference
Careers support
The School of Modern Languages works with the University's Careers Service to run an annual Employability Week, including an opportunity to network with recent graduates.
We also collaborate on the Modern Languages careers blog, Careers Translated. The blog gives you access to a range of relevant jobs, training and work experience opportunities, as well as interviews with alumni and employers, and general advice.
Our award-winning Careers Service is one of the largest and best in the country, and we have strong links with employers. We provide an extensive range of opportunities to all students through our ncl+ initiative.
Entry requirements
All candidates are considered on an individual basis and we accept a broad range of qualifications. The entrance requirements below apply to 2020 entry.
International Baccalaureate
32 points
Other UK qualifications (and PARTNERS)
Qualifications from outside the UK
English Language requirements
PARTNERS
Through our PARTNERS programme, you could receive an offer up to three grades lower than the typical requirements, and get support throughout the application process. To apply through PARTNERS, you must be based in the UK and meet our eligibility criteria.
Entrance courses (INTO)
International Pathway Courses are specialist programmes designed for international students who want to study in the UK. We provide a range of study options for international students in partnership with INTO.
Find out more about International Pathway Courses
Admissions policy
This policy applies to all undergraduate and postgraduate admissions at Newcastle University, including Newcastle University London. It is intended to provide information about our admissions policies and procedures to applicants and potential applicants, to their advisors and family members, and to staff of the University.
Tuition fees and scholarships
Tuition fees for 2020 entry (per year)
International Students
£18000
The maximum fee that we are permitted to charge for UK students is set by the UK government.
As a general principle, you should expect the tuition fee to increase in each subsequent academic year of your course, subject to government regulations on fee increases and in line with inflation.
You will be charged tuition fees for each year of your degree programme (unless you are on a shorter exchange programme).
The tuition fee amount you will pay may increase slightly year on year as a result of inflation.
Year abroad and additional costs
For programmes where you can spend a year on a work placement or studying abroad, you will receive a significant fee reduction for that year.
Some of our degrees involve additional costs which are not covered by your tuition fees.
Find out more about:
Scholarships
Find out more about:
Open days and events
UK open days
There's no better way to get a feel for Newcastle University than to come and visit our beautiful campus, located in one of the UK's most exciting student cities. The dates are now confirmed for our Undergraduate open days:
• Friday 26 June
• Saturday 27 June
• Saturday 19 September
Each open day is from 9am to 4pm.
Sign up for open days and we'll let you know when you can book to attend.
You can also meet us at exhibitions across the UK.
Or you can join us for an event at our London campus.
Worldwide events
We regularly travel overseas to meet with students interested in studying at Newcastle University. Visit our events calendar to find out when we're visiting your region.
How to apply
Apply through UCAS
To apply for undergraduate study at Newcastle University, you must use the online application system managed by the Universities and Colleges Admissions Service (UCAS). All UK schools and colleges, and a small number of EU and international establishments, are registered with UCAS. You will need:
the UCAS name and institution codes for Newcastle University (NEWC/N21)
the UCAS code for the course you want to apply for
the UCAS 'buzzword' for your school or college
If you are applying independently, or are applying from a school or college which is not registered to manage applications, you will still use the Apply system. You will not need a buzzword.
Apply through UCAS
Apply through an agent
International students often apply to us through an agent. Have a look at our recommended agents and get in touch with them.
Get in touch
By Phone
Contact us on +44 (0) 191 208 3333. We're open 9.00 to 17.00 every week day except Wednesday (10.00 to 17.00).
Online
Keep updated
We regularly send email updates and extra information about the University.
Receive regular updates by email
Live chat
Chat now
Social Media