Developing hybrid energy storage in Singapore
20 February 2023
As renewable energy sources such as wind farms and solar PV arrays generate more power, demand for efficient, long-lasting energy storage solutions is growing.
However, current battery technologies, such as lithium-ion and lead-acid batteries, have several drawbacks. They can degrade over time and pose environmental and safety concerns around their disposal.
Additionally, lithium-ion and lead acid batteries have low power density. This means that although they can deliver large amounts of power, they can only sustain this for relatively short periods.
A new partnership with Singapore-based VFlowTech hopes to develop a hybrid battery solution. By combining existing technology with their patented Vanadium Redox Flow Batteries, together we hope to improve system performance, safety and economics.
Vanadium Redox Flow Batteries
Features that make the vanadium redox flow batteries ideal for large-scale battery storage systems are:
the batteries are recyclable
have a greater than 25-year lifespan
low energy density that can deliver consistent power over long periods
100% discharge depth
A further advantage is the batteries' use of vanadium, one of the most abundant metals on the planet.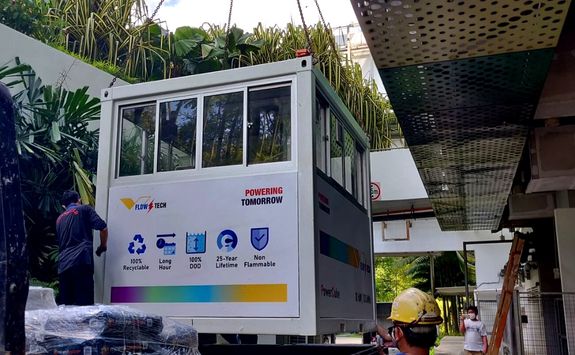 IPP Project Collaboration
Funding from the Industrial Postgraduate Programme (IPP), supported by the Economic Development Board (EDB) and Enterprise Singapore (ESG) will support VFlowTech team member, Reuben Tan, to further his PhD studies working on the hybrid system.
As well as combining vanadium redox flow batteries with lithium-ion, the research will also address hybrid electrical topology and the energy management system.
Dr. Avishek Kumar, Co-founder, and CEO of VFlowTech said: "We are excited to work with our own talent, Reuben and Newcastle University.
"Their proposed projects fit perfectly with our own research and development plans on renewable energy storage technology, which we are aiming to further commercialize very soon. At VFlowTech, we are proud to have re-invented vanadium redox flow technology and gone on to develop one of the world's cheapest and most modular vanadium redox flow batteries."
Reuben Tan said: "I am excited to be given the chance to learn and further contribute to the advancements in renewable energy storage technology through this Industrial Postgraduate Programme (IPP). Hybrid Energy Storage Systems have been a trending topic in the renewable energy industry, and I believe that the results of this project will be beneficial and impactful for environmental sustainability."
The project started in January 2023 and team members across Newcastle University Singapore and VFlowTech look forward to the results. It is hoped that it paves thwe way for further collaboration.
This project is being supervised by Dr Anurag Sharma, Dr Jianfang Xiao and Dr Sze Sing Lee, based in Singapore.
About VFlowTech
VFlowTech is a Singapore-based energy storage solutions provider. The company manufactures low-cost and efficient modular vanadium redox flow batteries.
VFlowTech was incubated in the CleanTech lab of Singapore's Nanyang Technological University. Many years of research has created intellectual propoerty that has now been passed to VFlowTech.
Header and listing image by Joshua Ang on Unsplash
You might also be interested in ...