Challenging Legacies:
The Kingdom of Iraq and Gertrude Bell
27 February 2023
Dr Ahmed Fakak Al Badrani, Iraq's Minister of Culture, Tourism and Heritage, Dr Laith Hussein, Deputy Minister and Director of the State Board of Antiquities and Heritage (SBAH), Ministry of Culture, Tourism and Antiquities and Dr Kossay, President of the University of Mosul met academics and members of the University's Executive Board to discuss the increasing ways that Newcastle is collaborating with partners in Iraq in areas such as culture, heritage and civic engagement.
Vice-Chancellor and President, Chris Day, said: "It was an honour to welcome the Minister and President Kossay to Newcastle University.
"The University of Mosul is a fantastic example of a truly civic university in a different context from our own. This provides exciting opportunities for collaboration and shared learning between our two universities. Much of this has already commenced and I look forward to seeing how this develops in the coming years."
Newcastle's Pro-Vice-Chancellor (Global and Sustainability) Richard Davies and Keith Merrin, Director of Tyne & Wear Archives and Museums (TWAM) welcomed the delegation to the Great North Museum to view the exhibition Challenging Legacies: The Kingdom of Iraq and Gertrude Bell.
The exhibition focuses on the establishment of the Kingdom of Iraq over a century ago using photographs and manuscripts from Newcastle University's UNESCO Gertrude Bell Archive.
The delegation then attended a working lunch in which future collaborative opportunities were discussed, including civic and community engagement, a priority for Newcastle and the University of Mosul. In the afternoon they visited the Archives and Special Collections in the Philip Robinson Library followed by an excellent and passionate lecture by Dr Laith on achievements and challenges of the State Board of Antiquities and Heritage in Iraq.
Dr Mark Jackson, School of History, Classics and Archaeology, is manager of the Gertrude Bell Photographic Archive and has been collaborating with partners through the Bell Archive for over 15 years. This exhibition comes at the culmination of the 3.5-year project funded by the Harry and Alice Stillman Foundation to digitise almost 12,000 unique items of heritage from the huge archive of books, photographs, diaries and letters that are now part of The Gertrude Bell Archive at Newcastle University. The new scans and transcribed documents can be found on the Gertrude Bell Archive website.
Dr Jackson said: "It has been an enormous privilege to host the visit of Dr Fakak and Dr Laith. Their interest in the Gertrude Bell Archive demonstrates the international significance of our UNESCO International Memory of the World. During their visit we discussed exciting possibilities for further collaboration using the Archive".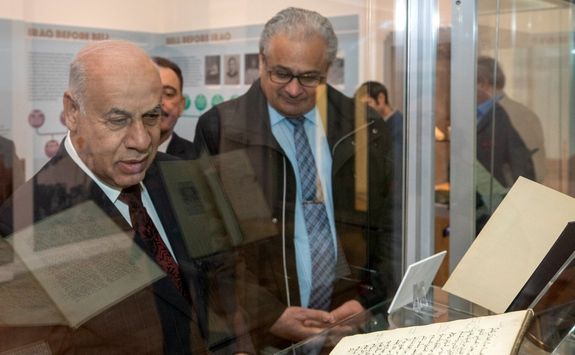 Dr Ahmed Fakak tweeted about his visit to the Great North Museum Hancock, saying that his team "learned about the latest techniques in museology to use their expertise to promote Iraqi antiquities in the Iraqi Museum."
Dr Rawaa Qasha, Director of International at University of Mosul and a Newcastle University alumnus said: "It is always a great pleasure to visit Newcastle University as one of the university's alumni and a visiting researcher, and to empower the link with Newcastle. I am honoured to work in establishing cooperative relationships between my two esteemed universities, the University of Mosul and Newcastle. Looking forward to establishing a permanent and full-scale collaboration."
The Challenging Legacies: The Kingdom of Iraq and Gertrude Bell exhibition at the GNM Hancock is open until 5th March 2023.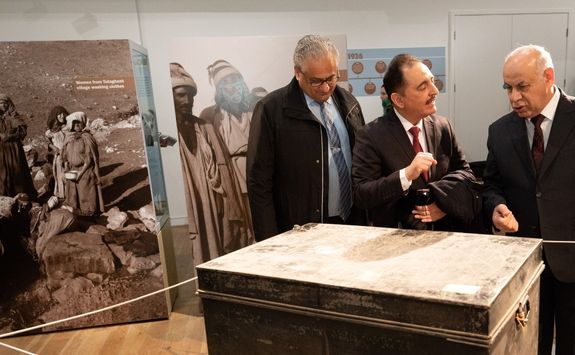 Newcastle University and Iraq
Newcastle University shares a long history of collaboration with Iraqi partners and friends. Many Iraqi students have studied at the university and have returned to Iraq as Newcastle alumni, taking up positions within the Higher Education sector.
The University is also custodian of the prestigious Gertrude Bell archive which has been recognised by UNESCO as a collection of global significanc, particularly for the people of Iraq.
The University is a member of the Iraq Britain Business Council, a membership organisation consisting of over 60 members comprising British, Iraqi and international companies, British universities, and the Iraqi and the Kurdish Federation of Chambers of Commerce. IBBC brings members together in five sector tables: Energy, Education, Training & Heritage, Infrastructure & Logistics, Finance & Professional services, and Industry and General Trading. IBBC also has a Tech Initiative, a Women's Group, a Young Executives Network, an Iraqi UK Alumni Network and a University Group.