Public
Engagement
The Dental School and Hospital is a major, public-funded institution. It's important for members of the public to know what we do. We're also keen to engage with individuals and community groups
Welcoming in
We welcome in members of the public to share their voice in our:
education research
clinical and bioscience research
student interviews
Effective engagement is essential in directing impactful research outcomes, including:
fundamental discovery science, identifying novel therapeutic targets essential to integrity of dental plaque
research in dental nutrition, helping to shape global health policy on sugar consumption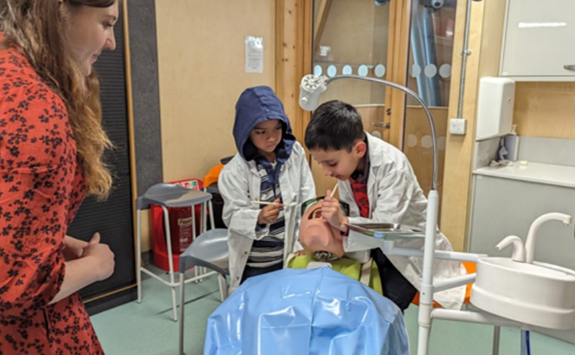 Brush Up group
Student volunteers invest considerable energy and free-time in oral-health community outreach. Our Brush Up group has a full programme of events, engaging with:
school groups
uniformed organisations
community health initiatives such as Newcastle Sure Start
They bring oral health and dietary advice. They give information on careers in dental and oral health.
The group also contributes to wider University initiatives. These include Apprentice Students on Campus. This helps introduce schoolchildren to the University and its courses.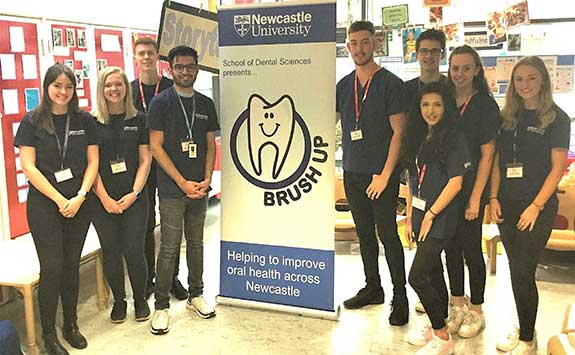 Award-winning
In partnership with the Wallsend Children's Community, our students lead a project. They provide oral health education to children, aged 5 in 13, in Wallsend primary schools.
Brush Up has won a Santander Community Engagement Award and a NUSU GoVolunteer grant. For more information on Brush Up or outreach events, please contact brushup@ncl.ac.uk.
You may even see us out and about in the city. We take part in local and national events such as:
the British Science Festival
Fame lab
Soapbox Science
General dental advice
If you need some general dental advice, the following links may help you.
If you worry about your oral health, contact your local practice.
You can fill in the free treatment form to attend the hospital if we're currently recruiting patients.