Teaching Resources
Our dental school is well-resourced with expert, approachable staff and up-to-date equipment.
Enriching the learning environment
We are in one of the most spacious and best-equipped dental facilities in the UK. Teaching staff include:
top-level research scientists
University and NHS-based clinical academics
experienced clinicians from general practice
It's a blend of individuals that enrich the learning environment.
Quality
Our teachers contribute to the scientific evidence that underpins our teaching and our teachers are active clinicians.
They hold combined University and NHS appointments. The quality of our teaching is a top priority. Our staff have won national and international recognition, including:
National Teaching Fellowships
Dental Defence Union National Dental Teacher of the Year awards
Distinguished Scientist awards
The latter came from the International Association for Dental Research. It recognises research excellence. The high quality of our teaching is very much driven by our research.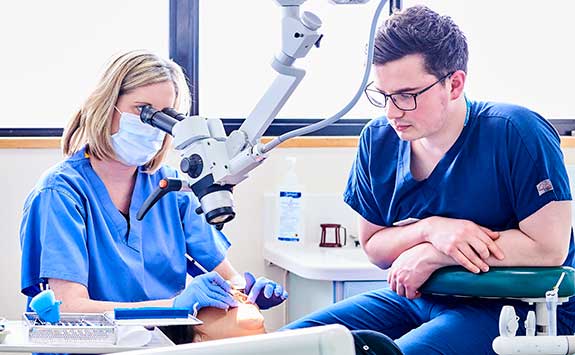 Integrated teaching and hospital
We work in one of the largest integrated teaching and hospital complexes in the UK.
Our dental school and hospital are in the same building. We link directly to the Medical School and Royal Victoria Infirmary teaching hospital.
We update our clinical skills training facilities and our clinical areas regularly.
Student reflection resource
A huge asset at the disposal of our teachers and tutors is the Newcastle iDentity eportfolio. Here, we:
keep a record of clinical performance
encourage confidential reflection
conceive action plans
record extracurricular and voluntary activity
The iDentity eportfolio is an exemplary innovation in student support.