Resources for Schools
We are passionate about highlighting the importance of good oral health from an early age.
Welcome to the Dental School!
Welcome to our Sugarbugs resource for primary school children.
It is important that we take care of our teeth and that means brushing away those sugarbugs that eat the sugar we put in our mouths and then poo on our teeth.
There can be a lot of sugar in foods that we eat, and it is important that we know which foods have less sugar and are better for our teeth.
If you came to see the Sugarbugs Live! at the Northern Stage, you will see on this page some of the things we told you about in our play.
On this page you will find:
Videos from our student-led team, Brush-up! on visiting the dentist, healthy eating and how to look after your teeth.
Our Whack a Sugarbug! game. See how many sugarbugs you can whack and how much poo you can brush away from the teeth!
Also coming soon will be a video of our performance.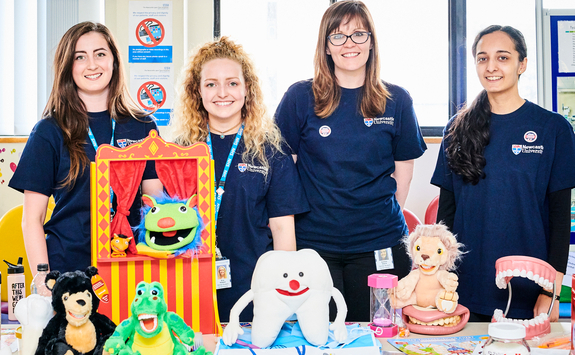 Some advice from the Brush Up team
Student volunteers invest considerable energy and free-time in oral-health community outreach. Our Brush Up group has a full programme of events, engaging with:
school groups
uniformed organisations
community health initiatives such as Newcastle Sure Start
They bring oral health and dietary advice. They also give information on careers in dental and oral health.
The group also contributes to wider University initiatives. These include Apprentice Students on Campus. This helps introduce schoolchildren to the University and its courses.
For more information on Brush Up or outreach events, please contact brushup@ncl.ac.uk.