Personal Tutors and School Support
The School supports all our undergraduate students through various staff roles and student schemes.
Peer mentors
In Stage 1 you will have a peer mentor who is a student volunteer from Stage 2 or 3. They will be able to give you guidance and support on various aspects of university life, for example:
introducing you to the library
advising on time management or revision techniques
talking about budgeting or how to register with a GP
giving you information about what to do in the city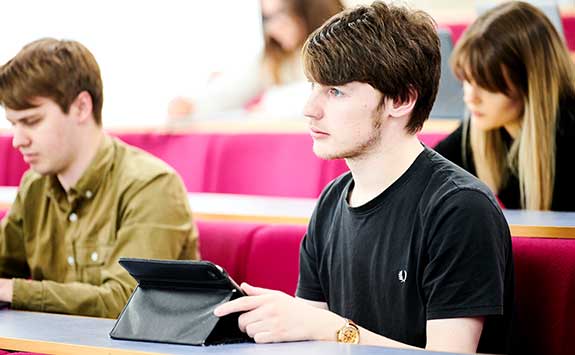 Personal tutors
Each student has a personal tutor, who is a member of academic staff and who is responsible for looking after the student's interests throughout his or her time at the University.
Your personal tutor is available to discuss academic matters such as module choices or your overall progress. They will also be able to recommend whether you need to see the senior tutor.
You should also inform your personal tutor about any difficulties you are experiencing which are affecting your academic work.
Personal tutors are not trained counsellors, but they will do their best to suggest where you might seek any help you need.
Senior tutors
The senior tutor acts as a second point of contact for you in the event of your allocated personal tutor's absence. They can also be contacted with queries about the personal tutor system or in the event of complicated issues.
The senior tutor has overall responsibility for pastoral care in the School, and for the management of extensions and other adjustments through personal extenuating circumstances.
The current stage 1 Undergraduate Senior Tutor is Dr Emily Murphy. The Stages 2 and 3 Senior Tutor is Dr James Cummings.
Degree Programme Director (DPD)
The DPD has overall responsibility for the structure, content and standards of the degree programmes within the School. You will need to speak to the DPD for course transfers, withdrawals and suspensions of study.
The DPD for English Literature and Creative Writing Programmes is Dr Mark Byers.
The DPD for Language and Linguistics programmes (including Q300) is Dr Michelle Sheehan.
Academic members of staff
You are welcome to speak to any member of staff. If you would prefer not to make an appointment please visit their office during their consultation and feedback hours.