Schools and Outreach
Empowering young people to consider a career in medicine.
Mini Medical School
Explore the exciting world of Medical Science
Our Mini-Medical School runs every autumn and is open to anyone aged 15 and over.
The programme offers the public the chance to find out about exciting topics. This includes current research developments at the University. The Mini Medical School will be delivered online via Zoom.
Previous programmes have covered a range of exciting topics, including:
anaesthetics
dermatology
emergency medicine
medical scanning technology
psychology
pharmacy
sport and exercise science
Evening lectures will run online on Thursdays 6-7pm, on the following dates:
2, 9, 16, 23, 30 November 2023
We will also be running an additional "Applying to Medicine" session on 07 December.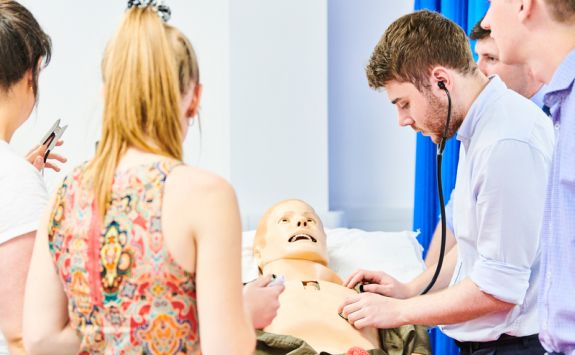 MaD Days
MaD Days (Medicine and Dentistry at Newcastle) invite year 12 students on campus to find out more about studying Medicine or Dentistry at Newcastle. These events are aimed at students with the potential to study Medicine or Dentistry at University.
During these half day events, students take part in interactive lectures and a practical clinical skills session.
Dates for 2022 are yet to be confirmed.
Monthly virtual sessions
We offer a number of monthly virtual sessions to aide and inform you about the application process.
We offer sessions covering the following topics:
Pathways to Medicine
Pathways to Medicine is a scheme delivered by Newcastle University, in collaboration with the Sutton Trust, to help students who are interested in a career in medicine. The scheme comprises of a comprehensive programme of academic and medicine specific support including work experience and online mentoring. It is open to students in the North-East of England who meet certain widening participation eligibility criteria.
Participating students receive a lower conditional offer, of three A Level grades (or equivalent) below the typical offer. Offer is dependent on UCAT and interview score.
STEM Newsletter
Our STEM newsletter is a monthly email. We send out information about science, technology, engineering and maths activities and events happening at Newcastle University.
The newsletter is designed for school and college teachers who want to find out about what opportunities we are offering their pupils. It encompasses all of the STEM subject areas including medicine.