Our Vision
Educational research in the School encompasses a range of interests crossing undergraduate and postgraduate settings. Our interests are not limited to medicine, but encompass the professional education of other professions – including dentists, nurses and allied health professions. Projects aim to improve practice, improve understanding, and/or inform policy.
Projects map to one or more of three themes, but can often overlap:
Educational practice
This includes projects directly concerned with the delivery of education and training.
These may include the development and evaluation of innovations in curriculum, and educational delivery. Examples include an evaluation of the longitudinal integrated clerkship introduced as part of the new MBBS curriculum, an MD study of patient involvement in medical education, an MD study of simulation fidelity, studies of the development of clinical decision making, and a range of innovations in anatomy teaching.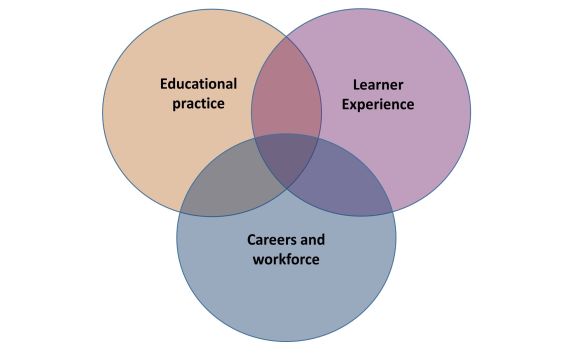 Learner and practitioner experience
This theme includes projects examining the experience of students and postgraduate trainees, including details of their work and wellbeing. Examples include work commissioned by the GMC to look at the experience of new doctors, a PhD the experience of medical students who fail finals, and a longitudinal study of medical students' experiences.
Career and workforce issues
This theme includes projects which focus on system level questions such as career pathways and specialty choice, regulatory issues, and issues affecting the workforce as a whole. Examples include an MD study of specialty choice, and policy-related work for bodies such as the GMC and Health Education England.
Interests of individual staff are listed in their personal profiles accessible through the 'Staff' link.