REF 2021
Politics at Newcastle University achieves strongest ever performance in the UK's Research Excellence Framework
Research success
The Research Excellence Framework (REF) has reported the results of higher education research quality in the UK. REF reports on its assessment every 7 years. The REF2021 results for Politics and International Studies at Newcastle include:
The classification of a remarkable 79% of research outputs as 'world leading' (38%) or 'internationally excellent' (41%) in originality, significance, and rigour
An increase to 3.03 (from 2.62 in REF2014) of our overall research GPA*
A 91% increase to 103.32 in our overall research power*, nearly doubling from 53.97 in 2014
A grading of 87.5% of our research environment as 'internationally excellent'
Our first ever grading of research impact as 'world leading' (16.7%)
Dr Simon Philpott, Head of Politics, highlighted that "this is the strongest performance by Newcastle Politics in any REF / RAE to date. We are absolutely delighted with the research progress being made throughout the Department. It has been a collective effort with every member of staff making an invaluable contribution despite the undeniable challenges of working through the COVID pandemic. I am very grateful for the hard work of everyone."
Research at Newcastle Politics is theoretically and methodologically pluralist and encourages interdisciplinary research on a range of topics, particularly political participation, social justice, and security.
The collective research achievements of the 100% of eligible colleagues submitted to REF2021 include 38% of outputs (journal papers, monographs, chapters) graded as 'world leading' (a significant increase on 15% in REF 2014).
Since REF2014, Newcastle Politics has consciously invested in its research capacity, leading to a 39% growth in Unit size (34.1 FTE, up from 24.6 FTE in 2014). Of these appointments, 79% are outstanding early career researchers, demonstrating that Newcastle Politics aims to continue with its expansion plans.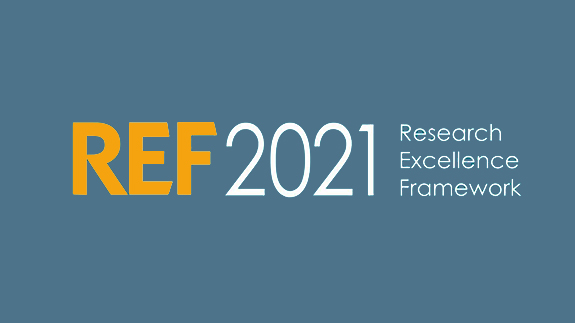 Dr Stephen Elstub, Director of Research in Politics, noted the "outstanding progress made with the quality of publications since 2014, which is testament to the world leading contribution to politics and international studies that Newcastle University is making."
Our research impact
We aim for our research to make an impact in the wider world at the local, national, and international level. We are collaborating with over 3,000 diverse non-academic partners and beneficiaries.
REF2021 recognised these efforts, with nearly 70% of our research impact classified as 'world leading' or 'internationally excellent'.
Our impact case studies focused on 'Supporting Improvements in Electoral Integrity in Britain', 'Shaping the 2030 Agenda for Sustainable Development', and 'Improving the Quality of Democracy: Deliberative Innovations and Parliaments'.
The strength of our research environment has also been acknowledged by the REF2021 panel. Newcastle Politics has had a nearly four-fold increase in external research funding from £309k (2014) to £1,135,605 (2021).
We value research engagement and impact at social, cultural, and creative levels. I'm very proud that our research is informing policy and thinking in public life and institutions at all levels, from the domestic right through to the international
Moreover, we have made a very strong contribution to the vitality and sustainability of the wider discipline, with Newcastle Politics staff serving in executive roles in six major professional associations.
They have also convened or served on executive committees in 21 major networks and specialist groups. We have edited 10 journals and organised 54 conferences and workshops during the latest REF cycle. Newcastle Politics saw 87.5% of our research environment graded as 'internationally excellent'.

Dr Katharine Rietig, Research Environment Co-ordinator in Politics said that "these REF results show that the research environment at Newcastle goes from strength to strength. I'm proud of the collective endeavour of our diverse and dynamic department."
The full results are below.
REF 2021 scoring
4* Quality that is world-leading in terms of originality, significance and rigour.
3* Quality that is internationally excellent in terms of originality, significance and rigour but which falls short of the highest standards of excellence.
2* Quality that is recognised internationally in terms of originality, significance and rigour.
1* Quality that is recognised nationally in terms of originality, significance and rigour.
U (unclassified) Quality that falls below the standard of nationally recognised work or work which does not meet the published definition of research for the purposes of this assessment.
Newcastle University - Politics and International Studies (UoA19)
| Profile | 4* | 3* | 2* | 1* | U | Eligible FTE | % FTE Submitted | GPA | Power |
| --- | --- | --- | --- | --- | --- | --- | --- | --- | --- |
| Outputs | 38.20 | 41.20 | 19.10 | 1.50 | 0.00 | | | 3.16 | 107.79 |
| Impact | 16.70 | 50.00 | 33.30 | 0.00 | 0.00 | | | 2.83 | 96.64 |
| Environment | 0.00 | 87.50 | 12.50 | 0.00 | 0.00 | | | 2.88 | 98.04 |
| Overall | 27.00 | 50.00 | 22.00 | 1.00 | 0.00 | 34.10 | 100.00 | 3.03 | 103.32 |
Notes
Politics research at Newcastle is organised through three research clusters: Governance and Political Organisation, International Politics, and Political Theory, and three research groups: Environmental Politics, Gender and Politics, and Quantitative Research in Politics. For more information see: https://www.ncl.ac.uk/gps/research/politics-research/
Newcastle Politics is proud to host the British International Studies Annual Conference in June 2022. For more information see: https://conference.bisa.ac.uk/
Newcastle Politics is honoured to host the Elections, Public Opinion and Parties Annual Conference in September 2022. For more information see: https://conferences.ncl.ac.uk/epop2022/
REF2021 was undertaken by the four UK higher education funding bodies (Research England, the Scottish Funding Council, the Higher Education Funding Council for Wales (HEFCW), and the Department for the Economy, Northern Ireland (DfE)). The results will be used to determine research funding from 2022-2028. For more information see: https://www.ref.ac.uk/
*GPA is a simple measure of the overall or average quality of research, which takes no account of the FTE submitted. It is calculated by multiplying the percentage of research in each grade by its rating, adding them all together and dividing by 100. To calculate 'research power', GPA scores are multiplied by total staff FTE submitted. For more information see: https://www.ref.ac.uk/
Find out more about our REF 2021 submission.