Laura Shafi
Professional Placement Year at the Science and Technology Facilities Council (STFC)
Laura Shafi
My experience of a non-lab placement year in science communication and public engagement with the Science and Technology Facilities Council (STFC).
I decided to look for a placement outside of the lab as I wanted to get experience in a job that was creative and involved interacting with a range of people. I was fully supported by my placement tutor Dr Vanessa Armstrong from the moment I began looking for placements. In my search, I applied for a range of roles such as marketing, but I began to learn more about 'science communication' along the way. I was prompted by Dr Beth Lawry to join the Newcastle University science outreach group SOLAR, to explore this interest in my second year.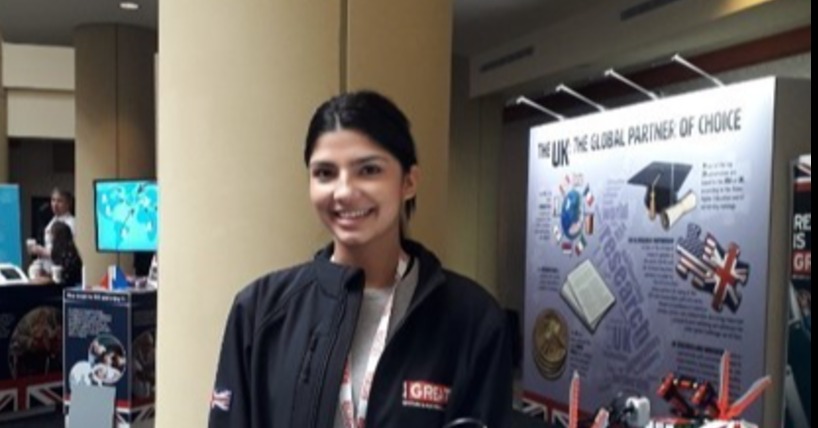 I came across a role online at STFC in public engagement and thought it sounded like an exciting opportunity. I had support from Dr Beth Lawry and the careers service in my applications which helped me to structure my answers, and secure an interview, which involved a presentation to demonstrate communication skills. The experience I had with SOLAR helped me in this process, and I also volunteered at a museum in my summer holiday.
STFC is a government funded research council that has a number of research laboratories across the country, covering a range of scientific disciplines. I was based near Oxford at a particle accelerator which was both exciting and daunting as I hadn't seen the word 'neutron' since GCSE!
The overall aim of my role was to engage the public and school with science at the facility. It was a great opportunity to develop public speaking skills through delivering science workshops and talks, which was very useful for presentations in the final year of my degree. I also had organisational responsibilities such as helping to plan public events. As well as this, I engaged with creative projects from designing resources such as posters and leaflets, to writing articles on the latest research for the website. To begin with, the idea of giving my own talk in a lecture theatre terrified me, but I was very supported and allowed to gradually build up my experience which made me much more confident by the end of the year. It was exciting to learn about a new subject, and this challenge was key in progressing my communication skills. There were many students based on campus and a lot of opportunities to attend lectures from leading scientists. I also ended up going to Washington DC to work at a conference, as pictured above, which was an amazing experience!
A great part of this job is that you are doing something rewarding by encouraging young people to explore science.
When I applied for my placement, there were not a huge amount of opportunities in this area, however there are more opportunities like this appearing.
After my placement in my final year, I built on my work experience as the intern for the SOLAR outreach group – which I obtained with the help of my placement year experience.
Having graduated, I have explored jobs in the charity sector as there is a lot of overlap with the experience I had on placement – and a real opportunity to do something rewarding whilst using these skills. Regardless of the career path I end up on, my placement year significantly broadened my horizons in terms of careers, and provided me with the confidence and employability for future opportunities. Although starting fresh in a new place can be a challenge, the benefits definitely make it worthwhile.