Study Abroad
Study abroad students can spend a semester or a year with us. You'll gain both cultural and academic skills, by integrating with our students, the school and the faculty.
Great opportunities
To take part in one of our study abroad programmes for international students, you need to have completed at least one year of study at your home institution. You can earn credits to transfer to your home institution.
Join us for a whole academic year or for one semester. You'll enjoy integrating with our students, both in the School and the wider Faculty.
There are great opportunities to experience first-class research. You will get to grips with the unique nature of the British National Health Service.
If you need any further information contact Dr. Carys Watts, Director of Pre-Med and Study Abroad Programmes.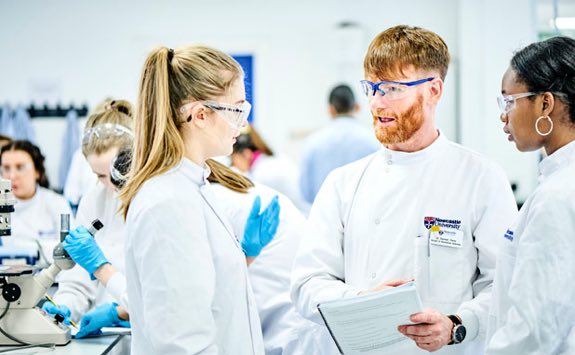 Pre-med programme
This programme is for pre-medical students from North America, planning to apply to a United States Medical School.
You can choose any of the biomedical modules that we offer to our undergraduate students (depending on timetabling). You can also choose modules from one of the other faculties (depending on timetabling constraints). This is at the discretion of the home institute.
There are also specially designed options for pre-med study abroad students. These will further enhance your medical school application. The options include a clinical skills module.
You'll also do clinical shadowing in one of the teaching hospitals. This will give you the chance to observe and learn from a clinician as they work with patients, and gain experience of the UK National Health Service. The shadowing is for a set period of time. Most students build a relationship with a clinician. As a result, they are able to gain further experience with the clinician, or with their colleagues.
You may have the opportunity to gain experience in research labs. We'll support you in contacting principal investigators at the University.
Successful completion of an appropriate course of study provides you with an opportunity to study at Newcastle. You can choose to apply for entry to one of the BSc (Hons) programmes offered by the School of Biomedical, Nutritional and Sport Sciences.
Find out more about the pre-med study abroad programme.
Biomedical Sciences programme
This programme is for international students who want to study Biomedical Sciences or Psychology. It exposes you to high profile teaching and research.
You'll be able to study most of the modules offered by the School of Biomedical, Nutritional and Sport Sciences, and the School of Psychology.
If you're taking Liberal Arts programmes at your home university, you can also choose modules from one of the other Faculties. This will depend on timetable constraints).
Find out more about studying Psychology and Biomedical, Nutritional and Sport Sciences