Biomedical, Nutritional and Sport Sciences Facilities
We offer great facilities, including classrooms, computer clusters, laboratories and a medical library.
School facilities
Our Biomedical and Biomolecular Sciences programmes are mainly run from our site in the Faculty of Medical Sciences.
Our Sport and Exercise Science and Nutrition and Dietetics programmes are housed in the newly-opened Dame Margaret Barbour Building.
There is a dedicated Teaching Support Office on both sites to provide dedicated support for our students and staff.
We also have specialist Biomedical and Biomolecular, Nutrition and Dietetics, and Sport and Exercise Science facilities.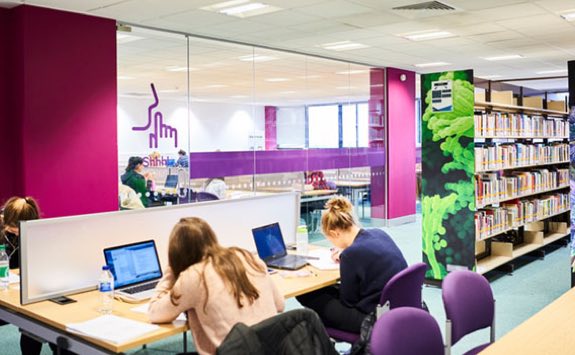 Biomedical and Biomolecular facilities
Our Teaching Support Office provides dedicated administrative support for our students and staff.
The School has four large teaching laboratories supported by our specialist technical team.
In 2018 the University invested £1.308 million to redesign and refurbish teaching laboratories A and B. The new design allows for use of a single large laboratory to accommodate approximately 200 students in a high quality, bright and airy space.
A descending dividing wall allows for two different practical classes to be accommodated simultaneously in the two laboratories.
Join us on a tour of our fantastic facilities:
Nutrition and Dietetics facilities
Our new state of the art teaching facility, the Dame Margaret Barbour building, opened in 2020. This £30 million investment is next to the Medical School.
The building house specialist Food and Nutrition facilities. These include:
a high-quality food handling laboratory
a food sensory suite
nutritional investigation rooms
The building also includes:
a 300-seat lecture theatre
seminar rooms
computer suites
extra study space
social learning spaces for students to enjoy
The Faculty Clinical Skills Laboratory provides a space for our dietetic students. Here, they learn and practise clinical skills on their peers and patient volunteers in a safe environment.
Together with the extra consultation rooms in the Dame Margaret Barbour building, our simulation facilities allow our students to learn and practice the nutrition and dietetic care process before moving on to NHS wards and clinics.
Sport and Exercise Science facilities
We opened our brand new sports science facilities laboratory in September 2019. These state of the art sports science facilities include:
an exercise physiology lab
a biomechanics lab
a gait track
a high performance lab
a nutrition kitchen
a blood preparation and analysis lab
We also offer a state-of-the-art environmental chamber to simulate altitude, temperature and humidity.
A £32 million investment has significantly enhanced indoor and outdoor sports science facilities across the University. This includes major development of the existing sports centre located next door to the Medical School. The centre opened in 2019.
The building provides space for performance and recreational sport. It also provides academic space for Sport and Exercise Science research and teaching. The 5,962m2 building houses the Sport and Exercise Science laboratories. There is a multitude of sports facilities within the building, including:
an eight-court sports hall
four squash courts
a strength and conditioning gym
a spin studio
Faculty facilities
There are eight lecture theatres in the Faculty, accommodating between 100 to 450 students. All our lecture theatres have undergone refurbishment. They all include state of the art audiovisual equipment.
There are also seminar rooms and classrooms in the building. These are for small group teaching. They each accommodate up to 40 students.
The Walton Medical Library is on the fifth floor of the Faculty of Medical Sciences building. It has an extensive stock of electronic and hard copy books and journals relating to all the taught modules and the research of the Faculty.
The faculty also has five computer clusters, with between 20 and 90 PCs each, for students. All clusters are open between 09.00-17.00 Monday to Friday. One cluster has 24-hour access.
There is an undergraduate common room and cafeteria on the ground floor of the Medical School.
Most students will work in one of our Faculty Research Institutes during their final year research project. Here, they have access to world-class research laboratory facilities. They get hands-on experience of the very latest technology.
University facilities
The University provides excellent facilities for staff, students and visitors. These include: